Previous Trials and Debates
London Here We Come! - June 2019
After successfully winning the first round of the Young Citizens Mock Trials competition in Peterborough on the 9th of March, our focus turned to the second round in Mansfield on the 18th May. We received a new case which we had to prepare during the Easter holidays, and had around 3-4 weeks to rehearse for what was going to be a much trickier round.
The case for this round was concerning an assault on a taxi driver on the 26th January 2019, after the first case which was to do with the alleged stealing of a mobile phone with the defendant riding a moped. This case was harder to get our heads around, but after a few weeks in the Easter break of familiarising ourselves with what was going on, we had a month to crack on with getting ready for the competition. Unfortunately, we had fewer rehearsals to practice this time around, but everyone independently learnt their pieces, so it could all be put together on a trip to King's Lynn Court on the 17th May. The experience was extremely helpful as we got to have a full-length run through and get feedback from our teammates. We also got this opportunity before the first round, and it certainly helped!
So, everyone was prepared for the day. It wasn't as much of an early start as last time as the competition day was split into AM and PM, but we arrived at school ready to leave at 10:15am. It took two and a half hours to get to the Court House in Mansfield.
Our prosecution team was made up of Jannis (Lawyer), Anoushka (Victim/witness), Finley (legal advisor), Craig (witness) and Nicola (lawyer) plus the three magistrates (Harry, Alex and Shereen), who were in court and taking notes for prosecution and defence. They were up against St. Grahams Academy and performed very well throughout. Then it was up to the defence, which consisted of Emily (lawyer), Merissa (lawyer), Myself (Mackenzie, witness), Neyah (usher), and Mia (defendant) – and again the three magistrates – as this time we were against Cedar Mount Academy. The school that we didn't get to compete against but where taking part was Littleport. Overall, we felt we performed well and didn't make any mistakes which is always the biggest worry.
It is worth noting that the verdict of the case does not determine who wins the competition, but the way that it is presented and the character you show, so if one team won the case, it may not be that team who win the round overall.
Once all the 'acting' was over, as the courtroom is known as being a 'show', we were playing the waiting game, eager/nervous to find out the results. And when we found out, we were over the moon and screamed "we are HEADING TO THE FINALS!!!!" It was down to a team effort and full commitment since being picked to compete over 3 months ago.
But, as always, as a team we have to thank everyone who has supported us or helped us in any way, shape or form. Most importantly Miss Roberts, who without her, we wouldn't have entered this competition at all and has helped us win with her tireless commitment to the cause. On top of that, we'd like to thank Young Citizens for hosting the competition and Miss Howell for looking after us at all times!
So, onwards and upwards to the Royal High Courts of London on the 15th June, where we will be competing against the best from across the country!
Mackenzie, Year 8
SHS Mock Trials Team Do It Again - March 2019
Around 0720 on Saturday 9th March, our Springwood Mock Trials Team arrived at school ready to take part in the first round of the Magistrates Mock Trial competition in Peterborough. As in the past, we always use the minibus trip there as an extra rehearsal to practise with those that we will work with in court.
Naturally everyone was nervous and our levels of nerves began to rise as we approached Peterborough Court.
We arrived with time to spare, which allowed us time to practise in a court room before the other schools got there. After a while our parents started arriving, alongside Mr Johnson who had come to watch for the first time. The other competitors shortly arrived and we had to introduce ourselves and swap team genders for the witness characters that we had all been practising to prevent a loss of marks.
The time came for our first round out of two. The team never perform together because it would mean cross-examining people from the same team, which wouldn't work. Therefore, every team that takes part is split into two; Prosecution and defence.
Our defence side of the team were competing first against Prince William High School. Each side of our teams consists of two lawyers, two witnesses, three magistrates and a member of court staff. The prosecution half of our team waited outside the courtrooms while the defence were up and used the extra time to practise (and to get more nervous!)
When our team's courtroom door opened, we all rushed in to find out how they had done. They had finished performing and were just awaiting the guilty or not guilty verdict which meant a bit of a breather for everyone! Many handshakes and high fives were exchanged between the two sides of our team and with the competing school.
After that first round it was time for the defence team to relax as their job were done, and was turn for the prosecution to go up against Peele Community College. I was part of the prosecution team and we waited nervously outside the courtroom with sweaty hands and shaking knees before taking our places.
We did our best, let out a sigh of relief and all ate our lunch. We received lots of lovely comments from the other schools and their students, and we knew that whatever the result, that we had tried our best.
The Judges gathered all schools downstairs in the court and gave a speech and certificates to each school. Then it was time to announce the winner. "And the winners of the 2019 Magistrates Mock Trial are!…. Springwood High School!!!" A huge shout out and applause erupted and we were all ecstatic.
It was a great experience for us, and it means that now we move on to round 2, the regional heat in Mansfield on the 18th of May. We will receive the case for this on the day that we break up for Easter holidays, so we are all preparing to come in over Easter to practise!
One final highlight of the day was that Mr Johnson promised that he would show us how he dabbed after having to produce a quick dance move on a recent course he went on. As you can imagine, we all held him to his promise, and it finished the day off with more fun and laughter! Unfortunately we don't have any photos of that part to share though!
A celebratory McDonalds on the way home made the day even more fun, and now we await the next case for the next lot of hard work!
Jannis
SPRINGWOOD HIGH SCHOOL WIN BRONZE IN MOCK TRIAL WORLD CHAMPIONSHIPS IN NEW YORK!
November 2017: The trip
It was a very busy few days, starting with a 6 hour delay at LHR after we were hurriedly taken off the plane just after taxi'ing due to a power cut and petrol fumes floating about the plane! This meant we lost our only free afternoon/evening in New York which was such a shame!
The next day it was straight into scrimmaging; a USA term for practising the case against other teams. We realised how competitive the USA teams were as they were scrimmaging every day from 7am in the lead up to the completion, with no downtime for socialising! We felt lucky that our coach, Miss Roberts didn't make us do this!
The rules state that you are only allowed to compete against people in your own division, so we were only permitted to scrimmage with teams in the other division so that we would never face them in trial.
We were reminded just how hard the USA law is, when we were being objected to every two seconds just to try and throw us off our trail of thought! However, one of our UK supporters and mentors; retired Old Bailey Judge Graham Boal, happened to be in NY that day and so he was our presider for the scrimmage and helped us out when we got stuck! It felt so bizarre seeing him in the context of a hotel in New York!
Although we had missed our opportunity to explore the city on the first day , we did get some downtime when after the scrimmage we boarded a party boat, to cruise along the Hudson and meet other teams. We made friends with the Irish school and this friendship lasted the whole of the competition.
The two competition days were extremely tough and didn't come without drama! The Manhattan District Court was huge and one of the schools got stuck in the lifts on their way up to their designated competition courtroom, which delayed the start of all 20 trials (due to rules that all trials start at exactly the same time). The staff hosting the competition attempted to reach them, but then they also got stuck in the lift. and the fire bridge had to come out to rescue everyone! Although we find it amusing now, it meant a long waiting game before the very first round of the competition which made everyone's nerve worse!!
However, it was all worth it in the end when we became bronze winners! We are proud that in only four weeks we managed to make this happen. It was very hard work at times, along with us all having A-levels to study for along with part-time jobs as it meant we did 7-day weeks for 4 whole weeks! Miss Roberts said that when we come to leaving school, we will be well set up for the world of work!
We were so happy that the High Sheriff, James Bagge joined us in New York. We are extremely grateful for his help, and we are so honoured to be here today in Norwich Court, presenting our case to some of Norfolk's dignitaries and legal professionals.
Our fun doesn't stop here though, as in January we will be hosted by Lady Leicester of Holkham for the evening. Along with this, High Sheriff James Bagge, has invited us to his Justice Service on March 4th at KL Minster, where we will be in the procession through the town and one of us will be doing a reading.
We are so grateful for the support of our school, our sponsors and our supporters.
Springwood High School Mock Trials Team 2017 - December 2017: The return performance
After all our hard work in November, we had to do it all again in December when we presented the case at Norwich crown court in front of local dignitaries and legal professionals.
We felt so proud to announce to our supporters that we were the only British school to make the top three ahead of 28 US schools and only 5 international teams. Once again we took on the roles of prosecutors, defenders and witnesses just like we did in the mock trail world championships.
We explained to our audience that we had only had 4 weeks of preparation before we flew to the 'Big Apple' armed with the knowledge of US law. We told them how we really felt like the pressure had been on due to coming 4th the year before.
The judge that judged our case in Norwich did so just like he would in a real trial. His name was Mr Justice Garnham, and although we were nervous, as we always are, he was really friendly and gave us some lovely compliments after the trial. We then got to mingle with everyone downstairs in the court which was a lot more informal, but equally enjoyable!
January 2018: The celebration night
We had the privilege of celebrating our mock trials performance in the private residence of Lady Leicester of Holkham. It was the most beautiful home we had ever been in, and we couldn't believe that she opened it up to us.
We were joined by Mr Johnson, The Mayor, and the High Sheriff which made it even more special.
We presented some extracts of our case and thanked all of our sponsors and supporters who had joined us for the event. It was so special, and we feel like the photos will say it all.
As usual, this celebration continues, and we are looking forward to March when we will process through the town with the High Sheriff and other Norfolk dignitaries at the Norfolk Justice service. Following this, we are lucky enough to have been treated to a meal at Pizza Express by one of our greatest supporters; the chairman of the Norfolk magistrates board.
Watch this space!...
Celebrations for Collecting the Bronze Award for Coming Third in the World
World Championship Bronze Medallist 2017
Letter of Congratulations from the High Sheriff of Norfolk
New York Take Two!
Springwood students are preparing for a second big win in the New York world championships. For further details please click on the link below to view the latest press release from the EDP:
2017 Year 8/9 Mock Trials Team
Following on from the success of our previous team the new year 8/9 team won the Norfolk heat of the Magistrates Mock Trails Competition on Saturday 4th March 2017 in Great Yarmouth.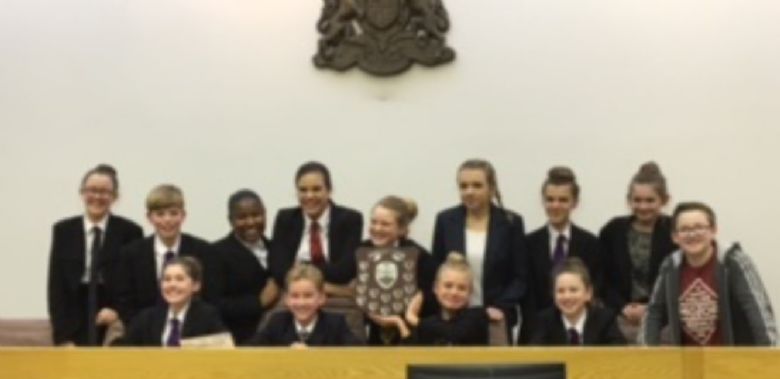 The Mock Trials students have raised £20,000 since August to enable them to fulfil their offer of a place at the World Championships of the Mock trials Competition in New York.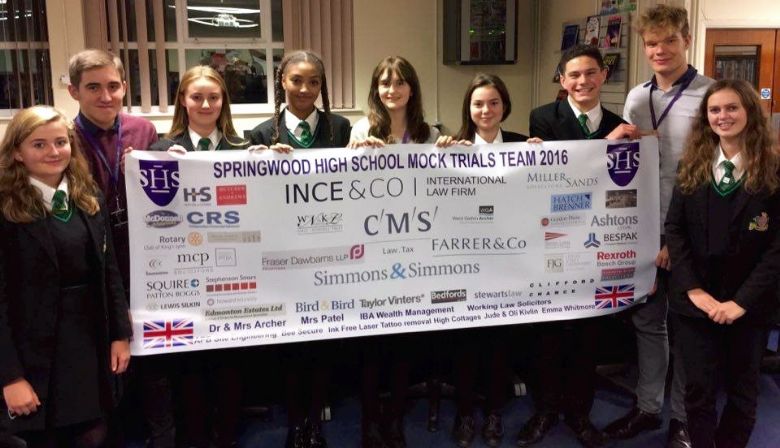 Please see below to view the latest news and updates on how they are progressing with their preparation and fundraising for their trip to New York to participate in the world championships
Mock Trials Team - Newsletter NYC
Barrister Mock Trials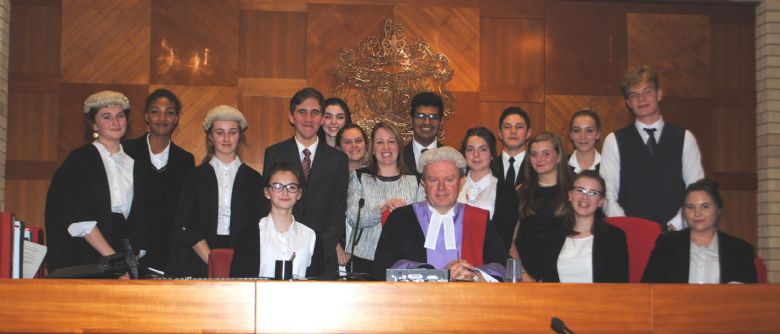 Recently, on 14th November 2015, a team of us took part in the Regional Heat of the Barrister mock trials competition held at Norwich Crown Court. This took months of preparation in our spare time. We had to prepare the defence and prosecution of two cases, but when preparing had no idea which case or which side we would be asked to present. We knew that we had to prepare everything but that we wouldn't necessarily perform everything. This was a huge task in itself!
Although some of the team had taken part in the Magistrates mock trial, it was the first time that we had taken part in the Barrister Competition, and due to this we didn't really know what to expect, other than we would be facing Sixth Form Law students.
As a team, we consisted of: Defence Barristers, Prosecution Barristers, Witnesses for both sides of the case, a Court Clerk and Jury Members. Everyone put in 100% effort before and during the day but also felt extremely nervous.
However, at 3 o'clock the two top scoring schools were read out, and it was explained that those schools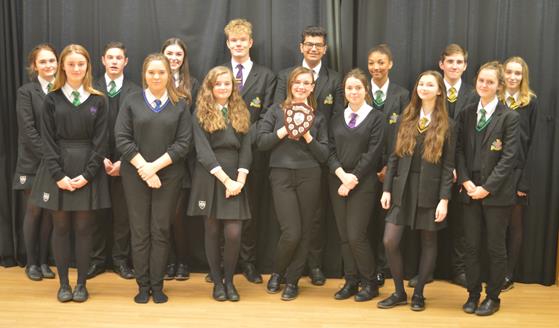 would go head to head for a place at the Old Bailey. To our surprise, we won a place in the final! We couldn't believe it as we were the youngest students there with our team being Year 10 and Year 11 students. We were the only students not to be studying Law!
After a nerve wrecking and tense, five minute preparation break, we were ready to start. Our opponents were very good, however, it turned out that so were we! Cautiously confident, our prosecution pushed for the defendant to be found guilty of robbery. Then the final moment came when the Court Judge announced that 'The winner of the 2015 Bar Mock Trial Competition is…Springwood High School!'
We couldn't believe it and as you can imagine there was lots of cheering from us boys and screaming from the girls (along with a few tears!).
Travelling home in the minibus, with our new addition (the trophy) we were all ecstatic. However, our journey isn't necessarily over as we now must wait until the first week of December, when we will find out if we are in the top 18 out of 24 winners nationwide. If we are, we shall travel to the Old Bailey in London and partake in the National Final of the competition. We are all hopeful and looking forward to receiving the results!
Elliot Simpson BG10
SIMPLY THE BEST!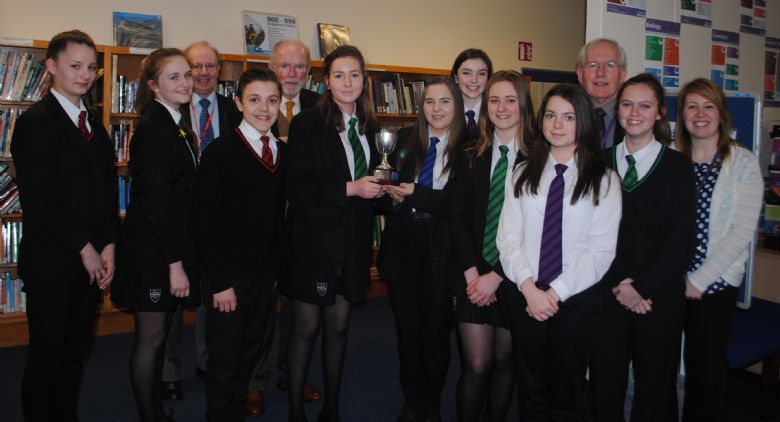 Our Magistrates team had a celebratory lunch today with Paul Bland, Stuart Hall and Graham Howard, in recognition. As on Saturday 7th March, Springwood High School became the winning team of the Magistrates Mock Trial Competition for the third year running!
The event took place at Great Yarmouth Magistrates' Court and saw 13 students take on a variety of roles from solicitors and clerks, to defendants and witnesses.
Performances were judged by Magistrates and legal professionals and the criteria covered a wide range of skills such as ability to question and follow-up responses, exploring witness statements, etc.
This year's case was about the theft of a mobile phone and involved two rounds of competition against two different schools. Hayley Roberts, project co-ordinator commented:
'It's a great way for the students to get first-hand experience of how the justice system works. What's even better, is that they genuinely enjoy the rehearsals and preparation sessions and have even managed to watch some real trials taking place in Court'.
The students will go on to compete in a regional heat in May where they will have to prepare the defence and prosecution for a new case.
We wish them the best of luck!
We did it AGAIN!!
For the second year, our Magistrates Mock trial students are through to the National Final which will be held in Birmingham on the 6th June at the Victoria Law Courts. It is a fantastic achievement for the 13 strong team who are becoming quite the young professionals in the legal field!
To celebrate their success in a new way, this half term, they were invited to be guests at Kings Lynn's Speedway. Buster Chapman, director of Speedway is an advocate of our young students and the hard work that they put in and gave them the opportunity to spend the evening in one of their Hospitality Lounges.
Although most of the students were new to Speedway, the adrenaline soon kicked in once they were invited to stand in the middle of the circuit.
They are most grateful to Buster for the opportunity and would also like to thank Mr Bland for his part in the organisation of the evening.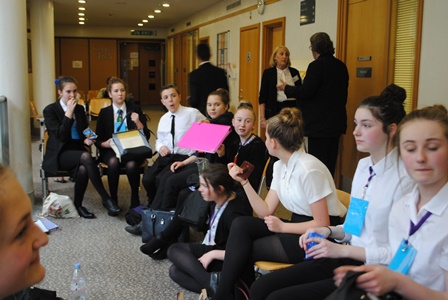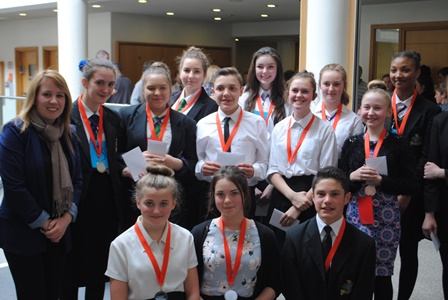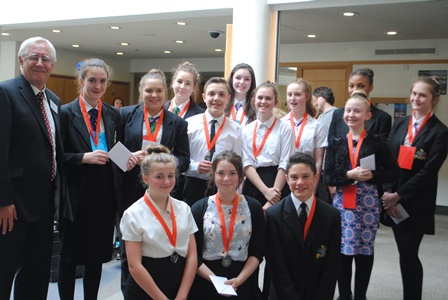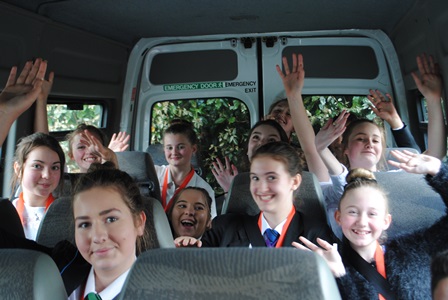 Birmingham: Yet again we had made it through the first two rounds of the Magistrates Mock Trial competition. For months, we had been working hard on our cases; giving up two lunchtimes a week, Fridays after school, and even some of our holidays. However, after all of our months of practising, the time had come - the national final.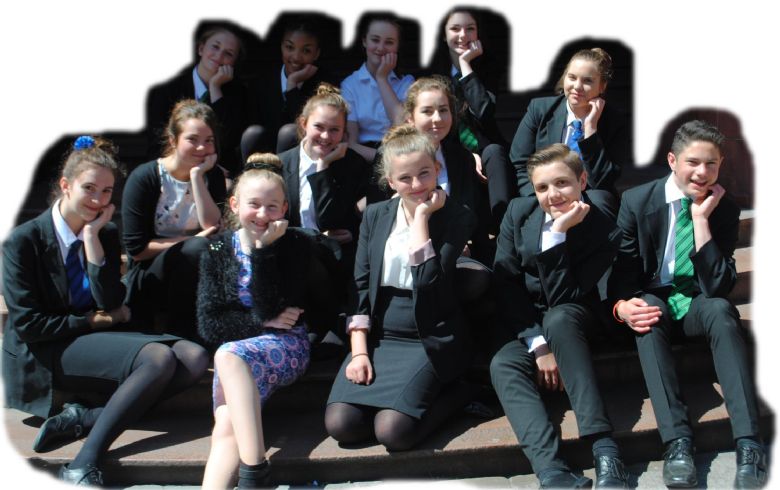 We travelled down to Birmingham on the Friday – the day before the competition, but before we departed we spent the morning doing a bit of practice, to ensure we were going to do everything the next day at our very best as we didn't want to leave the courtroom with any regrets. When our last moments of practice were done we got on the minibus and travelled down to Birmingham. Once we arrived we all got checked into our hotel rooms and got ready before dinner. We had a lovely meal together as a group before making time for one very final evening practice. However, early nights were needed for everyone because the next day was the day we'd all been working towards.
Competition day: We woke up nice and early, feeling refreshed and ready for the day ahead but as we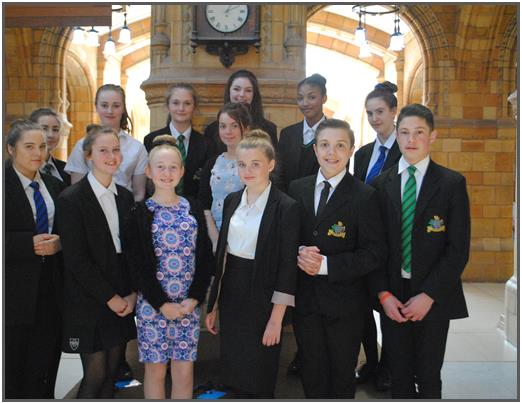 ate our breakfast, the realisation that this was it, began to sink in. Final room checks were completed, and we went on our way to compete at the Victoria Law Courts in Birmingham.
Once we arrived at the court and registered, we found an empty courtroom to do some last minute practice before listening to the welcome speeches before the first case. Our prosecution team went up first. They were prosecuting against Pat Taylor who was accused of stealing a mobile phone. They delivered their case immaculately, with very few mistakes and were against Cox Green School who also gave a very good case. Although the prosecution had put their heart and soul into it, the verdict was 'not guilty'.
It was defence's turn next. We were up against Wycombe High School. We fought, and put everything we had into our case, as we were desperate to get our defendant off, who we believed to be 'not guilty'. However, Wycombe also gave a very strong case, which lead to our defendant, Chris Bishop being found 'guilty' of criminal damage to a car.
We all left our courtrooms that day knowing we'd done everything we could have possibly done. Nearly six months of preparation had been leading up to this day. We sat anxiously and awaited the final results.
As we didn't place in first or second, we had to wait until Monday to find out our results. It was then that we found out that we came 4th. This is an amazing achievement considering that the competition started with over 300 schools, and there were 16 schools who competed on the day. We all felt very proud of ourselves.
The whole experience was incredible. The Magistrates Mock trial has taught us all a lot more about the legal system in this country, which many young people don't understand.
We would like to thank all our sponsors for enabling us to have an evening in a hotel which benefited us all, as if we left Kings Lynn on the Saturday morning, it would have been an incredibly early start for us, which would have lead to us all being very tired in court and not being able to fulfil our potential.
There is no way we would have ever got this far in the competition without our amazing teacher Miss Roberts. She has given up so much of her own time for us over the last few months, which we can't thank her enough for. Miss Roberts' dedication is truly unbelievable and each and everyone of us is so grateful for everything she's done for us. Words can't describe how thankful we are for being given this incredible opportunity.