Students set for Korean adventure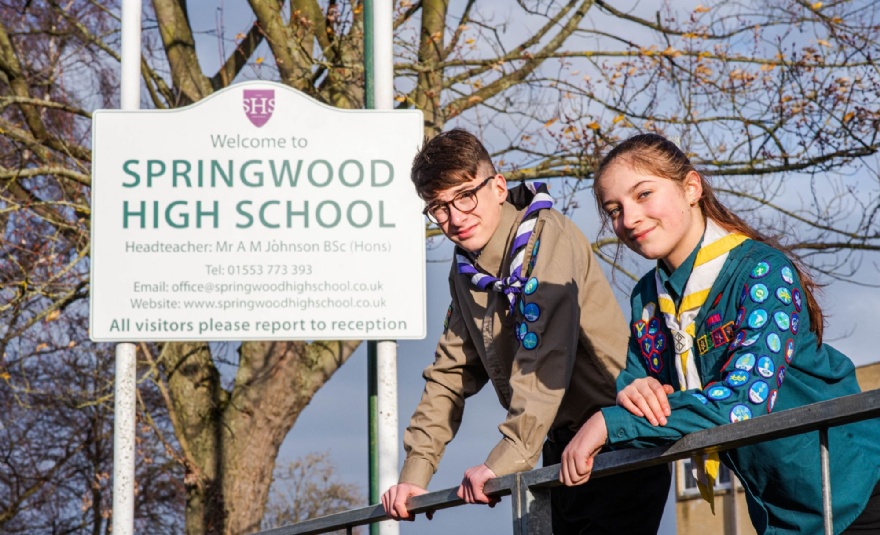 Two of our students have been selected to join the world's largest scouting event taking place in South Korea.
Imogen Allerton and Barney Kivlin will join thousands of other young people at the World Scout Jamboree in August 2023.
The event happens every four years, with participants having to get through a tough selection process and raise thousands of pounds to fund their trip.
More than 40,000 Scouts from all over the world will gather in South Korea, including a contingent from the UK.
The selection weekend involved completing nine different activities testing skills ranging from map skills to team work, with quizzes on Scouting and South Korea.
Year 9 pupil Imogen has been involved in Scouting since she was just a week old - as her parents are Scout leaders.
She said: "I am looking forward to meeting new people from all over the world and getting to see their culture.
"I couldn't believe I had done it. I thought the selection day went well but as the week went on I started to doubt it and didn't think I would be chosen. I didn't want to get too excited as I would have been disappointed if I didn't make it.
"Now I can't wait to meet the other members of my contingent when we get together for the first time at a camp in January."
Imogen plans to fundraise around £4,000 for her trip with activities such as bingo, cake sales, quiz sheets, badge sales and contacting local companies to see if they can help financially or with products to raffle.
Her parents Simon and Lisa Allerton said: "We are incredibly proud of her achievement and feel this is a fantastic opportunity that not many people will have.
"As the child of Scout leaders Imogen has had to put up with the long days and setting up, planning and running of events when all of her friends are yet to arrive or have gone home, while she is unpacking a trailer back at the scout stores.
"The selection weekend was a blind event so she was selected on her own merits, achievements and skills that she has gained through Scouting, school and dance."
Year 10 pupil Barney started Scouting as a Beaver when he was six-years-old, then moved on through Cubs and Scouts.
He is now an Explorer and helps out at his local cub pack as a young leader.
He said: "I want to attend the World Scout Jamboree to experience other cultures, try new foods and meet new people.
"During the selection weekend I was just being myself, our team worked well together.
"The hardest activity was the first, which was a maze, we were just eight individuals at that point. The South Korea quiz was my favourite, I had done my research and did well, just hearing about the final destination gave me the encouragement to do well on the day.
"I am most looking forward to travelling outside of Europe for the first time to experience a different culture
"I plan to do a lot of fundraising alongside the rest of my World Scout Jamboree Unit and I've thought about organising horse racing and bingo nights."
His parents Jude and Oli Kivlin said: "We are incredibly proud of the fact he has been chosen to represent his county and country at such an event and hope he makes the most of this opportunity and thoroughly enjoys himself."
Headteacher Andrew Johnson said: "We are very proud of Imogen and Barney, it is a massive achievement to be selected for this once in a lifetime experience.
"We encourage our students to take part in a range of extra-curricular activities to enrich their learning experience."