Christmas performances light up Chapel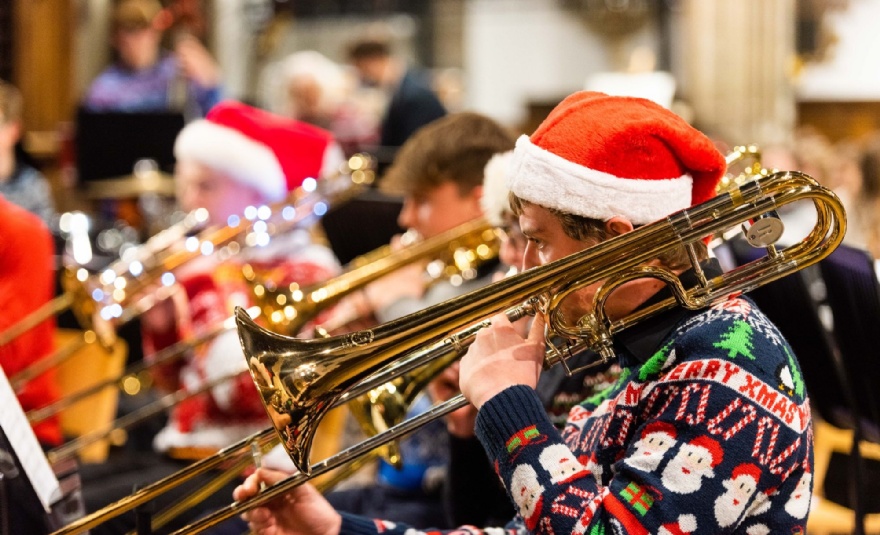 Our students conjured up the festive spirit with Christmas concerts showcasing their musical skills.
Our music department held two excellent performances enjoyed by an audience, with covid safety measures in place.
An evening of Christmas classics took place at St Nicholas' Chapel, featuring fantastic performances including from the school's sinfonia, brass and saxophone groups, along with the Junior Cantabene and Kingsmen choirs.
The highlights included new students that joined in year 7 in September performing for the first time and the starter band, which had most members only learning since Easter this year.
The curtain came down with 150 students from our year 7 - around half of the year group - taking to the stage for a thrilling choir performance.
'A Springwood Christmas Carol' was held at the same venue - a reimagining of the Dickens' classic devised by director of music Robin Norman.
This featured an abridged narration of the novel read by head of arts Alun Bliss, with the Concert Band, Big Band and Senior Cantabene choir, as well as other small groups, performing relevant pieces of music in between.
The concerts were the results of months of hard work by our students and staff.
Mr Norman said Christmas was always a highlight of the year for musicians, and this year was particularly special with music helping to get students through months of covid restrictions.
He said: "We have young people who have started to teach themselves guitar or keyboard; we have others who found the joy of singing, and some who just enjoy listening to music again.
"But what has been missing is the absolute joy of performing with others to a live audience and the 'buzz' that was created."
He added: "The young people of Springwood definitely rose to the occasion with fantastic performances - whether that be as someone who has done a lot of performing in the past, someone who has been 'promoted' to new parts or new groups, or those that were performing for the first time.
"In all cases they did a fantastic job and our audiences responded and had an absolute ball as well."