Holocaust inspired art donated by student.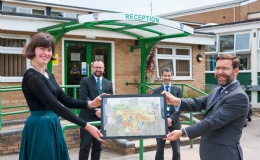 A special piece of artwork inspired by the Holocaust has been donated to our school by a student who is leaving this year.
Nina Koulman took part in an education project called Lessons From Auschwitz Online and was moved to create a picture which will hang in the reception area of school. Nina (18) created the arresting piece after taking part in the Holocaust Educational Trust initiative.
"I chose to make an artwork because I feel that these terrors cannot be expressed in words; instead I wanted to create artwork to commemorate those murdered in the Holocaust," she said.
"Learning about and from the Holocaust is very important, because it is a tragedy in history that must learn from and must be taught so that the future generations can recognise and challenge the hate that leads to events such as the Holocaust."
Our school has been involved with the Trust for more than ten years, and pupils usually make a trip to Auschwitz and a seminar in London exploring the subject in greater detail. Students are also asked to complete a follow-up task.
In the past this has most commonly been to deliver a lesson to Year 8 or 9 students about the Holocaust. We have also been fortunate enough in the past to have Eva Clarke, a Holocaust survivor born in the Mauthausen concentration camp, visit us.
We are delighted to receive this thought-provoking artwork commemorating one of the darkest times in history.
This year, due to the pandemic, the seminar was moved online and Nina, an aspiring teacher, said it was important to remember the Holocaust and the fact that the names of two million of the six million murdered are not known.
"It is important to remember all those that died and the systematic way in which it happened," said Nina, who is hoping to return to her native Netherlands and train as a primary school teacher after a stint in Spain as an au pair next year. She draws and paints in her spare time and has lived in this country since she was a toddler.
The Holocaust Educational Trust was established in 1988 with the aim of educating young people from all backgrounds about the Holocaust and the lessons which can be learned from it. A small group of students is chosen from each school to take part in the Lessons From Auschwitz programme.