Art donation for Springfest​​​​​​​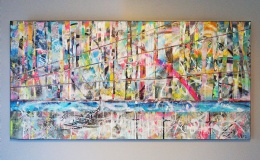 A West Norfolk artist has donated one of his pictures to help raise funds for our school festival to celebrate student achievement in completing an array of challenges.
Lee Eveson, who is also our head of art and photography, has given the original piece of work for auction by sealed bid to help boost the pot for the festival which is a day-long event for our Year 8 students.
Springfest is held each year on the school playing field to mark the completion of the Endeavour Programme which encourages students to achieve outside of their comfort zone.
A range of events, from go-karting to giant inflatables and live music have been held over the years and plans for 2021 are well under way.
It is a very special day for our students to celebrate what they have achieved with our Endeavour Programme which presents a series of challenges designed to raise engagement and achievement.
We want to make this one particularly special as it has been a year like no other and the group has done so well to complete the challenges in such difficult times.
Lee's work often sells for several hundreds of pounds and we are hoping to raise a good amount from his donation.
Mr Eveson's picture, called 'Child Style' has already attracted a £100 starting bid and the bids have been opened to members of the public who are being invited to take part and have the chance to own an original piece of work which took around 60 hours to produce.
"I wanted to help Springfest this year as a well-done and thank-you to the students for all they have done and all they have gone through this year. We are now a cashless school which makes student fundraising during the school day more difficult and I just wanted to do my bit," said Mr Eveson.
"Best of all, I get to work with and hopefully inspire amazing students every day," he added.
Mr Eveson's abstract style has seen him in the finals of a national open contest and he has been taken on by London art brokers Little Van Gogh who exhibit original work and move it to a new venue every two months.
He is currently working on a new collection which is due for release in the next year and his work is currently on show at Centrica PLC head office in Windsor.
To bid for the piece of art, email office@springwoodhighschool.co.uk and put 'art bid' in the subject line. The closing date is July 1st.