Springwood students dig deep in search of knowledge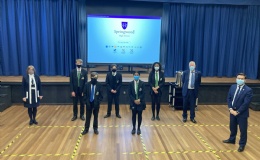 A group of our Year 10 students have demonstrated how far their thirst for knowledge goes after presenting their higher projects to staff and school governors.
The scheme, which is a Level 2 qualification, was made available to the top 10 percent of the year, giving students an opportunity to pursue a research project on a topic of their choosing which is not covered by their other academic subjects.
They then had to submit a written application, explaining what they wanted to investigate and why, before being given the green light to proceed, and after a period of research and study, presenting their findings.
"This is the first year we've run the programme and we're hugely impressed by what the students came up with," said maths teacher Mr Coote. "It can be inspired by something they've studied in class and want to explore further, or something totally unrelated that has caught their imagination, as you can see by the wide range of topics presented."
The five projects that made it all the way through to the presentation stage were "How to create an experimental film" (Finley), "How has photoshop changed the way we see reality and the effects on society?" (Ben), "To what extent do sounds affect foetal and postnatal brain stimulation and development?" (Lexie), "Should the UK voting age be changed?" (Mackenzie) and "How significant is the role of sleep on the nervous system?" (Elsa).
"It was a really imaginative and wide-spread range of topics, which gave them real potential for researching and furthering their knowledge, as well as developing presentation skills," added Mr Coote.
"Lockdown has made everything that bit more challenging recently, which makes their finished results all the more impressive. The students showed real determination and passion for their subjects, even when normal schooling wasn't happening, and they thoroughly deserve the qualifications and praise that they have earned."