Charity begins at school for our students this Christmas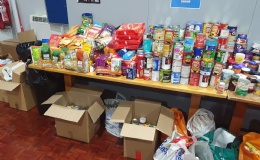 We have been doing our bit to put a smile on people's faces and a dinner on their plate this Christmas after our whole school got involved in a donation drive for the Purfleet Trust.
In the past we've done this with Year 7 and Year 8 students during Advent, but everyone's aware how tough times are this year, so we decided to expand it across the whole school.
The campaign was introduced through tutor time, where the children are encouraged to discuss current affairs, and they've been talking about how homelessness and poverty are still such a big problem in our society.

The example of Manchester United footballer Marcus Rashford, and his efforts to help feed struggling families, had given our efforts an extra impetus because rather than the request of giving to charity coming from an authority figure, like their teacher, it is coming from a role model.

Charitable work is encouraged in Years 8 and 9 at our school through our Endeavour programme and the Duke of Edinburgh award scheme, but there has never been anything on this scale before.

We've been so impressed by the response of the children, and we're really hoping it will have inspired some individuals to take this further. It's been such a success that we hope to run it again next Christmas.