Student claims national poetry competition honours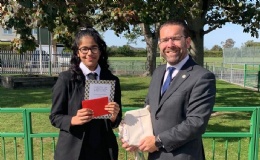 Year 11 student Merissa Lawrence has something to be very proud about after being named as one of the top young poetry reciters in the country, by organisers of the Poetry By Heart competition.
Merissa was first encouraged to enter the competition in Year 9 by English teacher Mrs Morris, and was highly commended for her performance. She entered again this year, where she won through local and regional heats to make it to the final 10 entrants out of the whole country.
Unfortunately the pandemic meant the national final never got to take place, but all 10 finalists have been honoured for their achievements in making it so far.
Merissa said it was her competitive nature, rather than a love of poetry, that inspired her to take part. "Initially I took part because I'm quite competitive," she admitted.
"To be honest I wasn't all that enthusiastic about poetry at first, but I've come to learn about the beauty of it. I've realised that you can interpret a poem in so many different ways, and this varies from person to person.
"Your perception of a poem can be portrayed through your own emotion, tone and gestures when you perform it, and it's really interesting how everyone recites and presents in different ways.
"Poetry's another form of communication which can reveal many things to the reader, and it's almost like a code which you choose how to decipher."
Entrants had to choose two poems, one from before 1914, and one after. Her choices were The Passionate Shepherd to his love, by Christopher Marlowe, and Adlestrop, by Edward Thomas. Both choices seem to have been at least partly inspired by mindfulness.
"I chose Marlowe due to its captivating and charming lines and language," she said. "It suggests a much simpler world, where riches and beauties came from the divinity of nature.
"Adlestrop was written just before the horrors of World War 1, about when a train takes an unscheduled stop in the English countryside. It describes a brief stop in a world of stillness and slowness, unlike the modern world we live in today."
Mrs Morris put Merissa's success down to "demonstrating a good understanding of both poems, and communicating their meaning.
"She spoke superbly and had excellent presentation, making eye contact and projecting confidence."
Although Merissa admitted missing out on taking part in the national finals was frustrating, she said the whole experience had been worthwhile.
"I learnt that I'm more capable than I really thought," she said. "After being highly commended in the first competition I participated in, I didn't think I would be able to go further and make it into this year's finals. I couldn't believe it when I made it into the national top 10.
"Most importantly, though, I learnt to never overlook an opportunity. The first time I entered, they were unable to organise a final competition so instead we were taken on a trip to France and Belgium, where we got to visit historic sites and learn about the war poets. It was an amazing opportunity for all of us, which we only got because we'd chosen to enter the competition."