Celebrations at Springwood as Students Collect their A Level Results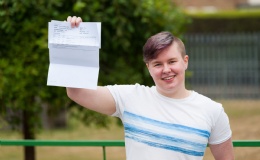 There were celebrations at Springwood this morning as our students arrived to collect their A Level results.
More Springwood students achieved at least one A* to B grade compared to last year with almost a quarter achieving an A* or A and over half picking up either an A*, A or B.
Joe Read was our top achiever with 5 A* in Maths, further Maths, psychology, physics, and an extended project. He is now off to study Maths and philosophy at Oxford University.
Joe admits he was feeling nervous and excited this morning. "I had a fair idea about how I would do but you always have doubts and I didn't have much room to slip up - I needed the A* in Maths and further Maths to get into Oxford so to open my envelope and see my results, I was ecstatic and I'm still buzzing now."
Other top achievers included Ben Hunt, Rosie Huang, Megan Tarry along with head girl Sammy Leet, Karim Payan, and Brandon Tuttle.
Andy Johnson, West Norfolk Academies Trust executive headteacher, said: "The governors and staff at Springwood are delighted with the achievements of our students.
"It has been a very positive atmosphere at Springwood this morning and after a challenging few months, it's been a wonderful celebration of the success of the brilliant young people collecting their results.

"This has been an excellent year group and they have all delivered in line with the predictions of our experienced teachers and heads of departments who have and will continue to support our students in the coming days as they navigate themselves to the next part of their educational journey.

"This year group has worked so hard and some of them have been with the Trust for seven years having either been at Springwood already or came to our sixth form from one of our feeder schools in St Clements, Marshland and Smithdon. I was proud to see what they have accomplished in their time with us."

While many Springwood students secured University places, including at Oxbridge, Danielle Ellington, Josh Tyers and Eleanor Ess are now looking forward to starting apprenticeships with major West Norfolk firms.

Roger Livesey, Chair of the West Norfolk Academies Trust, added: "We are thrilled that once again the hard work and dedication of our students and staff have been rewarded by such fantastic results, which will be the passport for our students in securing the next step in their educational journey.

"As an inclusive Sixth Form, we know that excellent teaching, personal target setting and support really work for our young people. We are very proud of them all."
Article by: David Blackmore - Barking Dog Media
Photos Taken By: Ian Burt