Year 6 Open Days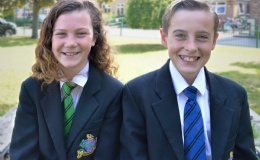 17th and 18th September 2019 - Read More
This year Springwood High School will be holding their Year 6 Open Days on the following dates:
Tuesday 17th September 2019
Wednesday 18th September 2019
Tours of the school and its facilities will be held during both days at the following times:
09.15 am
11.40am
1.30pm
To assist us in the planning we would be most grateful if you could register your interest as to which of these sessions you will attending. You can do this by clicking on the eventbrite link below and following the instructions.
Springwood High School Academy Open Day Tours and Open Evening 2019
Our Open Evening event will be held on Wednesday 18th September 2019.
There will be a presentation by the Headteacher at 6.00pm, which will be repeated at 6.45pm and again at 7.30pm.
The Open Evening is a fabulous opportunity for prospective parents and children to meet current staff and students, see the school and its facilities in a more informal setting, and get a feel for life at Springwood.
There is no need to book tickets for the open evening as there will be plenty of capacity for everyone.
For Further information please click on the link below to download our information postcard
Year 6 Open Evening Information Postcard
We look forward to seeing you