Year 10 Art and photography Students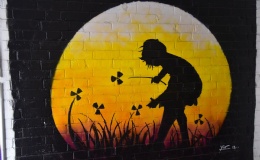 The Year 10 art and photography students were given the opportunity to go to London and have a guided tour around Shoreditch seeing some the the best internationally renowned street artists such as ROA, Shepherd Fairy, Banksy, Invader, Franakapan and many more.
Pupils had the experience of using the London underground - visiting Oxford Street and Caraby Street before then heading to Leak Street Graffiti tunnels where they also saw artists at work. A fantastic experience and opportunity for pupils to progress GCSE coursework and develop own photography skills. A trip enjoyed by all - with thanks to Ewan Grummett and Niki Cooper.
Mr Eveson and Mrs Empson