Year 6 Taster Days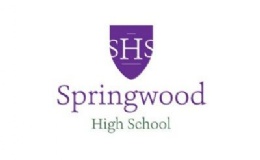 These will be held on Tuesday 25th and Wednesday 26th June 2019 - Click here for Further Information
Our two Year 6 Taster Days will be held on Tuesday 25th and Wednesday 26th June 2019. Your child will be expected to attend on both of these days in their current primary school uniform.
Upon arrival at Springwood on Tuesday morning (by 8.45am), Year 6 children should make their way to the main hall. We will have current students with large 'follow me' signs stationed at key points to look out for Year 6 children and help them get to where they need to be.
If they wish to purchase food from the canteen, please send them in with some cash - a school meal is around £2.20 and an average daily limit set by parents is around £3.50 If they are in receipt of free school meals currently, this will be the case on their taster days and we will ensure the canteen staff are aware.
All Year 6 children will need their PE kit on these days - what they usually wear for PE at their primary school is fine.
We look forward to seeing you on Wednesday evening.
If you have any further questions, please email me on s.aviss@springwoodhighschool.co.uk