Bingo Night - 30th April 2019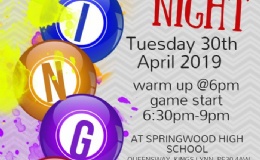 Eyes down for Bingo on Tuesday 30th April 2019
Springwood students are holding this event to help raise funds for their 2020 Costa Rica trip.

Bingo will commence with a warm up game at 6pm and there will be other games and a cake sale taking place on the night.
Interested?? Then why not come along and join in the fun as there are prizes to be won!!!