ROTARY CLUB YOUTRH SPEAKS COMPETITION 2019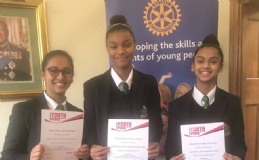 Following their win in late 2018, on Saturday 9th February, three students from Springwood High School took part in the second round of the Rotary Youth Speaks competition in Cambridge.
Keeping the same title as in round 1; 'Are Vitamin Supplements Essential?' they followed the judges' comments and suggestions from the last round; editing their speeches to include more humour and the 'rule of three'.
The most challenging part of the day for all schools, is the moment when the Rotary Club's 'planted' person in the audience poses an impromptu question. For this part, all students can do is guess what they might be asked and prepare possible answers accordingly.
Luckily for the Springwood team, it was something that could be answered easily by their main speaker as it was related to something they had studied in science relating to the placebo effect.
At the end of the morning they were all thrilled to be announced as the round 2 winners and will go on to perform in again in round 3 in March.
Mr Johnson was in attendance and therefore the win was an extra special one for the students as he saw their hard work and commitment and praised them for their performance and effort.
The school gives their ongoing thanks to the KL Rotary Club who continue to support our students and were also present on the day.