Renaming of Hall in Memory of Peter Hopkins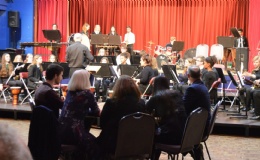 Friends, former colleagues and students joined the family of Peter Hopkins at Springwood High School on Thursday November 29th to celebrate his life and contribution to the School. Mr Hopkins joined Springwood High School as only its second ever Headteacher after Michael Griffiths in September 1995 and remained in that role until August 2010. He sadly passed away aged just 67 at the very end of 2017.
The evening in particular celebrated the school's Specialist Arts Status, which it was awarded in 2001, and in his memory the school's main hall has been re-named The Peter Hopkins Hall. An award, carved personally by Chair of Trustees, Roger Livesey, from a tree from Pete's own garden will be presented annually to the student demonstrating the most outstanding determination and commitment.
The evening began with a buffet as guests assembled and watched on the large screen a recording of the 2011 Boomerang Theatre Company performance of Chime Children in which Mr Hopkins' two younger children, Jessamine and Edmund, who both attended the school for 7 years, had appeared as it toured Australia. After a welcome from current Trust CEO and Springwood Headteacher, Andy Johnson, Pete's legacy was showcased by music and drama performances by current students before the Chair of Trustees spoke eloquently and movingly about Pete's time at the school and presented the school with his trophy as well as a framed and inscribed portrait of Mr Hopkins to grace the newly named Hall. Mr Hopkins' eldest daughter, Isabel, and his wife, Deborah, replied on behalf of the family. They thanked the school for honouring Pete in this way and spoke of his pride in the achievements of students and staff at Springwood. Isabel said, "The life of the school and the chance to help young people achieve their goals or even go beyond them gave Dad's life such meaning and it feels absolutely fitting that part of him is now permanently here in the way Springwood and his friends, colleagues and pupils were always a part of him."
The Award of Arts Status built upon the school's existing reputation for Performing Arts but secured significant extra funding to finance additional teaching and support staff as well as new and improved facilities including a recording studio, music practice rooms, retractable audience seating and theatre standard lighting rigs, all of which remain in use today although the additional funding ceased in 2010. In addition, 10% of places at the school are still allocated to pupils demonstrating an aptitude for Music or Drama.
Jean Meldrum, Pete's deputy for many years commented, "Working with Pete on this bid revealed to me two of his many outstanding qualities as a school leader: his vision for Springwood which was realised in many ways, not just Arts Status, and his absolute determination to achieve his aims and in this case surmounting the very stiff challenge of securing matched funding from local sponsors and the community".