Saatchi Gallery and Victoria and Albert Museum Arts Trip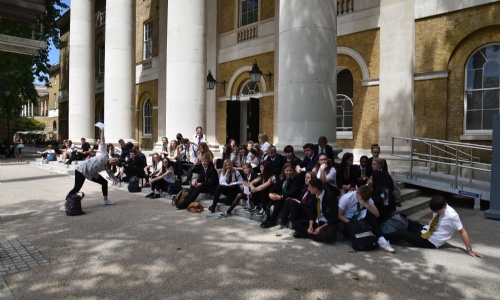 Forty four KS4 Art and Photography pupils had an inspiring trip to London to further their own interest and inspiration in the subject; having first hand experience of going to a National Gallery and Museum
Pupils saw work that was thought provoking and at times perplexing to stimulate that create thought process required in this subject. Gaining valuable primary source photographs and sketches to form part of their GCSE course work.
At the Saatchi pupils saw artworks at the cutting edge of contemporary art. The exhibition Know Unknowns featured work from a variety of different artists with the overarching theme of their exploration of concepts about modern life and our existence.
The V&A is the world's leading museum of art and design, housing a permanent collection of over 2.3 million objects that span over 5,000 years of human creativity. The Museum holds many of the UK's national collections and houses some of the greatest resources for the study of architecture, furniture, fashion, textiles, photography, sculpture, painting, jewellery, glass, ceramics, book arts, Asian art and design, theatre and performance. It's collection spread over seven levels and organised by five major themes: Asia, Europe, Materials and Techniques, Modern and Exhibitions.
A fantastic trip enjoyed by all, many thanks to pupils who were superb throughout and to Mr Cuss and Mrs Williams for joining me.
Miss Simons
To view the photos of the trip please click here.