Ofsted Inspection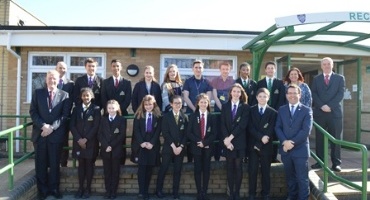 By now you will know that we were inspected by Ofsted in February 2017.
This was no surprise as we were expecting them as they last visited in July 2013. Mr Johnson received their telephone call the day prior to the inspection and he agreed with the inspectors the main foci of their visit. These were
· The VI Form, because its development was not as far advanced at that time as the rest of the school at the time of the last inspection
· Attendance, as like so many schools in this area we have a small minority of students who's attendance is well below our expectations
· Pupil premium students, as nationally their achievement and attainment is a concerns to our government
What Happened During the Inspection?
Many things! A wide cross section of lessons were visited, interviews took place between Ofsted and our Senior leaders, students were spoken to, the school's safeguarding practice was tested, student books were scrutinised, parental questionnaires were analysed and our own monitoring of the school was presented to Ofsted.
What did they find?
In terms of the three foci
· They concluded the VI Form had made significant advances since the previous inspection and has the capacity to sustain further progress.
· Our work to improve attendance was commendable. The endeavours of the attendance team is very thorough and is helping many students to improve their attendance
· The inspectors also thought our strategies to improve the outcomes of our Pupil Premium students had many merits and should bring about improvements in 2017. The inspectors were also impressed with the "effective action" the leadership team had taken in tackling the progress of disadvantaged students, which is now improving.
The School leadership and the Governing Body already knew this but, it was good to have it confirmed by our experienced inspection team.
Other findings that Ofsted commented upon included
"Pupils learn in a calm, orderly environment" and "wear their uniform with pride".
"Leadership team had maintained the good quality of education in the school."
"Leaders and teachers emphasise the importance of academic achievement"
"Pupils respond to these high expectations by working diligently."
During lesson observations the team observed pupils who "think deeply", "make connections" and "unravel misconceptions".
The less able were taught how to master the basics without "always being left to do the easy work" as one pupil told the inspector.
The more able pupils, the report notes, "make more than expected progress." This is in part down to the fact that, "Leaders have acted", since the last report, "to make sure that pupils complete appropriately challenging work" and are "challenged to think hard within lessons."
Their Overall Conclusion
SPRINGWOOD HIGH SCHOOL PROUDLY REMAINS A GOOD SCHOOL!!!!!
So what now?
· Ofsted will 'probably' not visit for another three years allowing us to get on with the business of ensuring the best possible educational provision for our young people
· We can now use the new Ofsted logo on our website and other communications. This should help with recruiting strong teachers to work at the school
· We will seek to work towards being judged 'Outstanding' the next time Ofsted cross our doors.
The school has now been judged good by Ofsted for at least the last five inspections. This means that for around 20 years the school has sustained its good judgement. Families have sent their children to a school that has provided them with a positive educational experience. No one knows better than us that the school is not perfect but we are proud that we have sustained this standard and not yo-yoed like many schools. When we have had a slight dip or issue we have addressed it with urgency. We will continue to support our students so that they
1. Enjoy their school life
2. Feel safe and secure while at school
3. Fulfil their potential in the exam room
4. Move on to Universities and careers that are in keeping with their talents
5. Broaden their horizons
We take delight in seeing our students moving on from Springwood to prosper in a wide variety of settings. Some stay in the local area, some end up at the other side of the world. We are confident this will continue especially if we can maintain one of the schools great strengths
'Students, teachers, non-teaching staff, parents and governors all pull together'. If we continue to do this, individual students, teachers and the local community and even further afield will benefit from the work of Springwood High school.
I think we all can give ourselves a pat on the back, then it's back to the work of moving this school even further forward
Mr Hutton