GCSE Results 2016 - A winning performance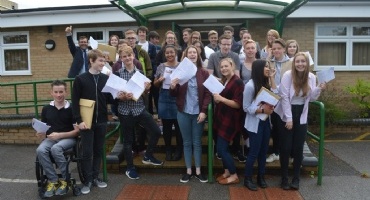 In this Olympic year, Springwood High School has produced a gold medal performance
In this year's GCSE results with a magnificent 66% of students achieving English and Mathematics at C grade or higher.
Particularly outstanding performances include:
Lauren Carson, 14 A* grades
Rohan Rastogi, 14 A* GCSE and A* in A-level Mathematics
Joseph Vayalil Lawrence, 12 A* grades and 2 A grades
Anam Khatri, 10 A* grades and 4 A grades
Lara Sharpin, 8 A* grades and 5 A grades
Chloe Pegg, 7 A* grades, 5A grades and 2 B grades
Abigail Peters, 4 A*grades and 7 A grades.
Danny Jackson, 4 A* grades, 7 A grades, 1 B grade and 2 C grades
Joe Wells, 3 A* grades, 8 A grades and 2 B grades
Oliver Graves, 3 A*grades, 7 A grades and 3 B grades
Milly Griffin 2 A* grades, 9 A grades and 3 B grades
Talhah Malik, 3 A* grades, 9 A grades and 2 B grades
Harry Thompson, 4 A* grades, 5 A grades and 5 B grades
The majority of these students and many others from Springwood and surrounding schools are looking forward to attending Springwood High School's Sixth form which achieved its best ever results this year.
The school is also very proud that all students made significantly better than expected progress across a range of subjects which will show in our positive progress 8 score.
Andy Johnson, Executive Headteacher said "This is a magnificent set of results for the school. It has been a brilliant year for Springwood at both outstanding GCSE and A level results"
Roger Livesey, Chair of Governors and Chair of Trustees said "Springwood has delivered an outstanding set of results for the school this year. I am proud of how hard the students and staff have worked"
If you would like your child/children to be part of the schools success then you are welcome to attend an Open Day and Evening for 2017 students and parents on Tuesday 20th and Wednesday 21st September 2016. For more details please contact the school on 01553 773393 or via email on office@springwoodhighschool.co.uk.