Springwood Ghana visit to Listawood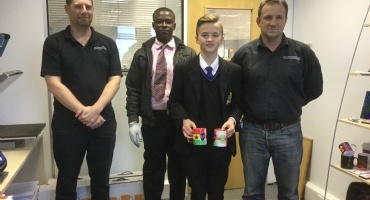 Talented Year 10 student, Connor Russell, won a design competition to produce a commemorative mug celebrating the link between the two schools. King's Lynn company, Listawood, which has worked with Springwood school's Modern Languages department on a number of occasions, kindly offered to judge the winner of the competition and produce the mugs, which are to be used as prizes at Springwood. Following a tour of the factory , Alex Turner, owner of Listawood, presented the mugs to Mr Quartey and Connor.
Albert and Connor were also delighted to have the opportunity to have a go at making their own mug.
When questioned about the design Connor stated ' I was planning to do a Ghana flag on one side and an England flag on the other. Then I switched it round so the Ghana flag had the England school logo with it and vice versa and pixellated the middle to make it link. I made my mug on the red interior which looks really nice. Today was fun'
Photo from left to right:
Alex Forsyth, Albert Quartey,Connor Russell, Alex turner (owner of Listawood)