Norfolk Emergency Services visited Springwood High School on Friday 1 December 17 to conduct a #Impact demonstration. # Impact, is an initiative aimed at educating young drivers about road safety and to highlight what can happen when things go wrong behind the wheel.
The emergency services came to Springwood High School and gave a demonstration on car safety.
A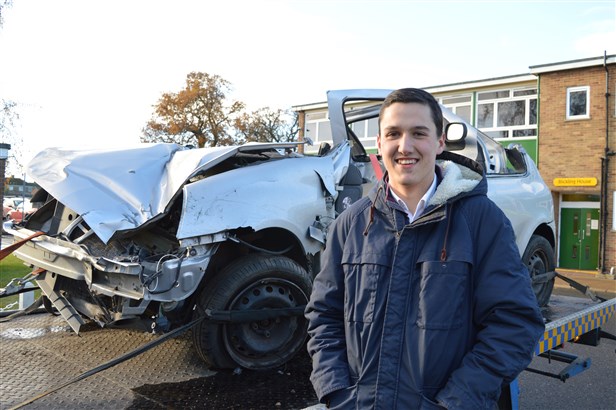 young driver that had once experienced a car crash which led to very serious injuries for the rest of his life gave us a first-hand insight on the impacts of unsafe driving and how it could be prevented.

During the demonstration firefighters, police and paramedics were on site to explain what happens after a crash occurred. The ambulance service used a volunteer from the sixth form to explain the procedures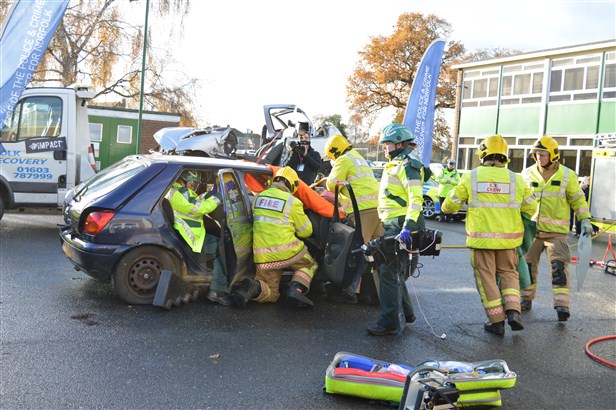 taken if this were a real life situation; from stabilising the casualty to removing them from the car using a spinal board. Whilst the ambulance service were stabilising our volunteer the fire service began to cut away the car roof to enable the paramedics to extract the casualty safely. They began by breaking all the car windows – this ensured that the glass did not smash due to a change in pressure and further injure the casualty when removing the roof. Once the roof had been removed the casualty was strapped to a spinal board and removed from the vehicle.
Once the fire service and the paramedics had finished getting the casualty out of the vehicle, the police service explained the steps that followed if this were a fatal accident – these steps included conducting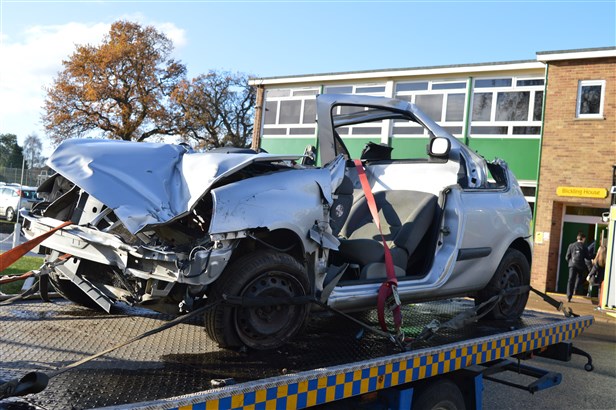 investigations, taking statements, interviewing any eye witnesses to help to find out the cause of the crash, identifying the victim and informing the family of the incident The police explained how hard it is to deliver these messages to family's and how much grief it causes.
This demonstration gave the sixth form a real life view of on what goes into rescuing casualties from crashes – It has really put the importance of following car safety rules into perspective and how much grief it can stop if all drivers young and old follow the rules of the fatal four; do not drink and drive, do not use drugs and drive, always wear your seatbelt, and to follow the speed limit at all times.
Report written by AliMay Campbell, Elizabeth Cerina and Josie Mapp, Year 12.
To view more photos of the event click
here
.