The Rotary Youths Speaks Competition 2018 (District Final)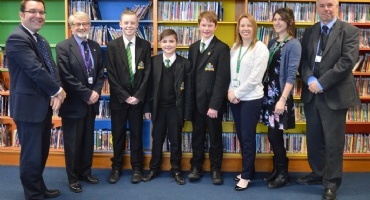 This was held on 3rd february 2018 at the College of West Anglia.
You may remember that on the 28th of November 2017, myself (Mackenzie Whitehouse-Baker), Finley Meehan and Harry Davidson, all from 7S1, took part in the Rotary Youth Speaks Competition in King's Lynn and won that local heat. Well, that was only round one, and on the 3rd February 2018, we were back for more when we had round 2 at the College of West Anglia in King's Lynn for the District Competition. This time our opposing teams were significantly stronger than before and we were competing against schools from Ipswich, Bungay and Cambridge. This time they weren't just state schools, but some were also from the private school sector!
We presented again on our original topic of E-Safety and we kept our original team roles (I was the chairperson, Finley was the main speaker and Harry was the proposer of the vote of thanks). However, but we adapted our speeches a little following feedback from the judges after the first round of the competition. We spent considerable time polishing our speeches this time, as we knew we needed to stand out and couldn't afford to slip up at any point if we wanted to be successful or we'd risk losing precious marks when being judged.
To hep us prepare, Miss Roberts arranged for us to present our speeches to a group of VI formers who were very experienced in public speaking. This helped us overcome any nerves that we had in performing in front of an older audience and also helped us prepare because the VI formers challenged us by asking us questions on our topic. This is part of the competition process, as Rotarians ask questions based on what they've heard and we have to answer on the spot.
The day came around so quickly and because it was a Saturday, we had a 10 am start this time. The competition took place in the University building where the audience sat in tiered seating in the lecture theatre. This time we were drawn to go third out of four schools which meant that we had chance to watch and learn before it was our turn! The teams that presented before us were very good so the pressure was on, but when the time came we delivered our speeches more confidently than we thought we would!
At the end of the Intermediate Competition (years 7-9) we had a short break and then got to relax and watch the Senior Competition. This was really useful to see what we could aspire to later on in our school years. We had a nervous wait once it was all over, but when the results finally came in we had great reason to celebrate because the Springwood team were announced as the winners!
We were presented with certificates and gift cards and we got to celebrate with our parents and Miss Roberts over a complimentary lunch at COWA.
My team and I were over the moon to reach the next stage, as all our hard work paid off. Now it's time for us to work on our speeches even further by taking the advice we were given by the judges this time. This will help us to prepare for round 3, which will take place in Chelmsford on the 21st of April.
The team would like to say thank you to Springwood for giving us this wonderful opportunity and also to Miss Roberts, who, without her, we wouldn't be at this stage in the competition.
By Mackenzie, Finley and Harry 7S1