Cambridge offer is music to Ezra's ears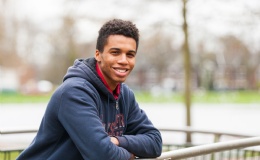 Ezra Nwobodo's success in achieving an offer from Emmanuel College, Cambridge, is a clear example of the phrase if you can see it, you can be it.
He is one of four students from our class of 2021 to have received offers from Oxford or Cambridge, out of a record 11 students who were offered interviews.

"Applying for Cambridge was my decision," he said. "There was someone the year above me who got into Oxford to do Maths and Philosophy, so that made me think maybe I can do something similar, and if you've got a chance, then go for it, what's to lose?".

As head boy in Year 11, and also a keen musician who plays the cello and timpani, Ezra had plenty to talk about in his interview. But it was focused entirely on his academic achievements, something he said the school's mock interview preparations had made a lot less challenging.

"I did mock interviews with a teacher and also an ex-teacher who has been part of the Oxford University admissions team, which was hugely helpful, because when the time came, they didn't ask anything about me personally, or my statement, it was all about the subject, so that preparation was really useful."

Ezra describes himself as "quite an independent person and I like to do things myself," but said knowing he had the support of staff if needed was invaluable. "They're very helpful and will always give you guidance so it's great to have them available as a resource."

In addition to a tough target for his A Levels of Maths, Further Maths, Chemistry and Music, Ezra has to get through an additional Cambridge Maths exam known as STEP. "Those will probably be even harder than A Levels," he said.

But the hard work will all be worth it if it helps him clinch that prestigious place at Cambridge, offering him a world of possibilities.
"Long term I'm not entirely sure what I want to do yet, which is why I chose maths," he said. "I think it opens so many doors. It's nice to think that in these trying times, what I'm doing might give inspiration to someone else. "