Cambridge within touching distance for Beth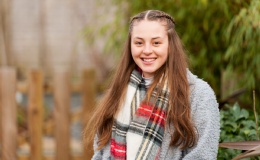 Cambridge within touching distance for Beth
Beth joined Springwood for her A levels of English Literature, Music and Psychology and after the interview process has been set a target of A*AA to secure her place. She is one of four students from our class of 2021 to have received offers from Oxford or Cambridge, out of a record 11 students who were offered interviews.
"I know Cambridge as a city, but I've not actually been to Newnham yet," she said. "In fact I applied for a place at Corpus Christi College, and had an interview there, but then got picked up by Newnham instead."

One of the keys to her progress this far in the application process was the input from school staff, said Beth,who was previously a student at Alderman Peel school in Wells.
"The help I received on my personal statement and the interview practice, including with someone who used to work at Springwood and went to Cambridge, were invaluable," she said. "They picked up on things in my personal statement, like books that I mentioned that I'd read, so it was good to be prepared to deal with that."

Although she knew Cambridge the city, her knowledge of the university was limited to say the least, but now Beth is excited by the prospect of having a chance to study there.
"I was part of a couple of mentoring schemes where I met some Cambridge students, and I thought maybe I could try and aspire to what they were doing," she said. "That made me think it was something I could give a go, and now I've made it this far."