Leah Meets The Queen!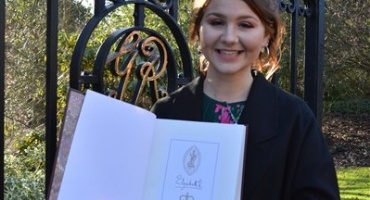 Former Springwood Sixth Former Leah Bowman met the Queen at Sandringham House. Leah, who studied Art, Photography and Fashion, was awarded the Queen's prize as she scored top grades in all 3 of her A Levels - a feat matched by no other student in her cohort.
Leah had previously been celebrated at the School's Year 13 Presentation Evening but finally collected the real prize, a signed collection of the works of Shakespeare, from her Majesty on 7th January. Leah was accompanied by her parents and Springwood's Executive Headteacher, Mr Andy Johnson. Leah was shocked to win the award and explained; 'it was very surreal, I am still taking it all in!' Leah is on a gap year at the moment and is working before doing some travelling. Leah recalled the subjects of conversation between her and Her Majesty; 'we talked about traveling as she had visited Borneo and had an album of photographs to show us.'
Springwood is very proud of Leah's success and Director of Sixth Form, Mr Pettitt, explained some reasons behind it;'Leah worked extremely hard in her her A Levels. She spent time on her studies and showed a genuine love for the topics she was studying at Advanced Level. Leah shows all perspective students the importance of choosing A Levels that you genuinely love and are passionate about.'
Leah will be going to Leeds University to study Fine Art in September. Everyone at Springwood wishes her well and is very proud of her achievements.