Alistair Macdonald visits the Sixth Form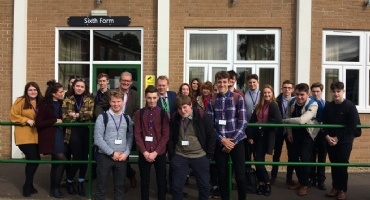 Sixth Form students were treated to an excellent and informative talk from Alistair Macdonald on the Super Learning Day of 11th October.
Alistair is a former BBC reporter and producer with more than 20 years experience in broadcasting. He is also a pioneer of environmental reporting, stemming from his interest in mountaineering and exploration. He has climbed to 23,000 ft on Everest, tramped through swamps in the Amazon and wandered through remote parts of the Sahara. Alistair now makes a living by training directors of companies in crisis management and handling of the media. He has helped CEOs of large companies to deal with legal changes, deaths, attempted abductions and a range of other circumstances requiring crisis management and media handling skills.
Alistair spoke about the prevalent issue of 'fake news' and its importance for young people today. He gave a range of examples of 'fake' news that has been widely reported in the media - including some of his own stories (form his days as a journalist) that have been reworked and had fake facts added. He also gave the students his 7 top tips to avoid being manipulated by fake news stories. Alistair finished the talk by answering questions on a range of issues from the Sixth Formers including: the responsibility of social media platforms to ensure their content is accurate, the role played by Russia in President Trump's election and the comparisons between JFK's conspiracy theories and how they show the origins of fake news.
The students invited Alistair back to talk to them in more detail about how they should screen themselves from content on social media.
Alistair is pictured with some Sixth Form students and with Mr Pettitt, Director of Sixth Form.