Extended Project Qualification (EPQ)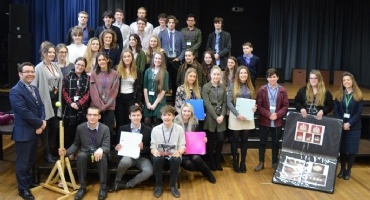 42 students from Springwood Sixth Form this week have received outstanding results for their Extended Project Qualification (EPQ).
Among the 42 students, 19 students achieved A* and14 students achieved an A. This represents a phenomenal 45% A*, 76% A*-A; the best the school has ever seen. The examiners report complimented the school on the 'undergraduate' level of projects. One student commented "I am so proud of my grade, I never thought I would get an A* and now my university has dropped my entry requirements by 1 grade." Completing the EPQ has allowed me to develop transferable skills to prepare me for university." Students completed the projects on a variety of topics including the making of a trebuchet, eating disorders, the death penalty and Nanorobots in medicine. The EPQ is very well regarded by universities and employers as it requires students to plan, undertake and evaluate a project of their choice. This may be a mini dissertation, an artefact, a performance or a report.
To find out more click here to view an EPQ video.