Inspirational Talk by Laura Kennington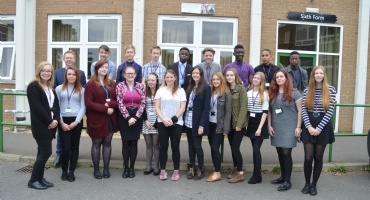 On 7th October the sixth form was treated to an inspirational talk by adventure athlete, Laura Kennington.
Laura, originally from Suffolk, gave up her insurance job in her mid-20s and invented a new job – adventure athlete. Since this life changing choice Laura has completed her own version of a triathlon as a traditional triathlon didn't excite her. She encouraged our sixth former to create things for themselves if what they truly are looking for doesn't exist.
Laura gave lots of excellent advice to students about the spirit of adventure and how to find real enjoyment in their lives. Bethany Slack, year 12 student, commented; 'the talk was really inspirational and motivational. I thought Laura was amazing!'
Laura is pictured above with some of the students from Springwood Sixth Form.
Below is a video presentation of the event: