West Norfolk Cup Final Victory !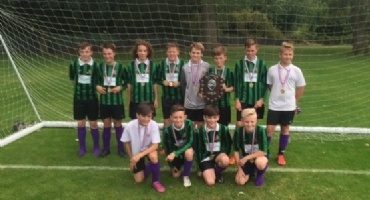 Springwood completes the cup double in debut season!
Springwood under 12 Football team have continued their excellent form from the previous year, with a hard-fought West Norfolk Cup Final victory over main rivals KES. This was a delayed fixture from the previous academic year.
West Norfolk Schools Cup
SHS showed signs of rustiness early on, and deservedly fell behind 1-0. The goal seemed to spring SHS into life with Harry Carter finishing a neat team move. KES instantly regained the lead straight from kick off, with Springwood not getting organized at the restart. Rio Culey levelled just before half time after giving the keeper no chance at his near post.
Half time: 2-2
Captain Aaron Powell gave the visitors the perfect start to the 2nd half after winning and dispatching a penalty. SHS showed they had not learnt from their mistake in the 1st half, conceding straight from the restart to make the score 3-3. Powell grabbed his 2nd of the game with a well struck shot from the edge of the area before substitute Tauvydas Lembutis finished well after a superb run from Jake Smith. SHS defended resolutely for the last 10 minutes before Jak Uppington finished off the scoring.
Full time: 6-3
Route to the final.
Nicholas Hammond 0-5 Springwood

Springwood 5-0 Downham Market

Springwood 4-1 Kings Lynn Academy

Litcham School 2-4 Springwood
Squad list
Bradley Ironside, Steven Solomka
Kyle Wells, Lewis Bush, Sam Lammiman
Cameron Hazle, Rio Culey, Harry Carter, Aaron Powell ©, Tauvydas Lembutis
Jak Uppington, Jake Smith