Earl of Wessex Drops In to visit WNAT DofE Students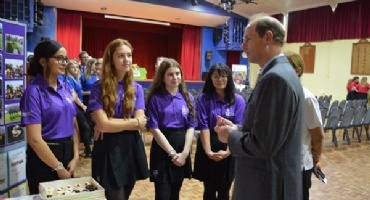 Trustee of The Duke of Edinburgh's Award (DofE), HRH The Earl of Wessex visited Springwood High School on 10th October 2017 to speak to students from across four Norfolk schools about their DofE achievements.
Marshland, Smithdon, St Clements and Springwood High School all come under the umbrella of West Norfolk Academies Trust which holds the licence to deliver the DofE across all schools.
Founded by HRH The Duke of Edinburgh in 1956, The Duke of Edinburgh's Award is the world's leading youth achievement programme that develops over 400,000 young people for life and work every year in the UK, including nearly 50,000 from disadvantaged backgrounds. HRH The Earl of Wessex has been deeply committed to the Charity's work since achieving his own Gold Award in 1986. The following year, His Royal Highness became a UK Trustee of the charity and of The Duke of Edinburgh's International Award, and was chair of its International Council for 17 years.
The Earl was escorted by The Lord Lieutenant Richard Jewson, the Executive Head Andy Johnson, whilst meeting with dignitaries, including the High Sheriff James Bagge, the Mayor of Kings Lynn and West Norfolk and the Director of The Duke of Edinburgh's Award for the Central Region, Mr Phil Brown.
HRH visited different stands throughout the school, depicting all sections of a DofE programme, including volunteering, skills, physical, expedition and residential. . The Earl spoke to groups of Gold Award participants who have recently completed their Expedition section in torrential rain in Yorkshire as well as some who have also completed their Residential section.
DofE participants from Marshland High School and Smithdon High School showcased expedition training and route planning. HRH The Earl of Wessex was invited by Bronze participants to take part in a game of badminton as part of their Physical section.
St Clements High School DofE participants showcased their volunteering whilst students from Alysham High School read out a poem and sung to HRH. The Earl unveiled a Licensed Organisation plaque at Springwood High School and congratulated the school on becoming an organisation that is now licensed to run the DofE to its students. In his closing speech HRH spoke about the way that gaining a Duke of Edinburgh's Award ensures that any challenges of the future can be overcome and that Award holders will now have the confidence to take future opportunities.
Executive Head Andrew Johnson concluded the afternoon by thanking the volunteers and the DofE Manager, Pauline Petch for their time in making the DofE such a success for the students across the trust.
There are three progressive levels of a DofE programme which, when successfully completed, leads to a Bronze, Silver or Gold Duke of Edinburgh's Award, participants choose their own programme of activities and set themselves objectives.
It's not a competition or about being first. It's all about self-development and its balanced programme develops the whole person - mind, body and soul, in an environment of social interaction and team working.