Springwood Mock Trials
World Championship Bronze Medalists 2017
Letter of Congratulations from the High Sheriff of Norfolk
New York Take Two!
Springwood students are preparing for a second big win in the New York world championships. For further details please click on the link below to view the latest press release from the EDP:

2017 Year 8/9 Mock Trials Team
Following on from the success of our previous team the new year 8/9 team won the Norfolk heat of the Magistrates Mock Trails Competition on Saturday 4th March 2017 in Great Yarmouth.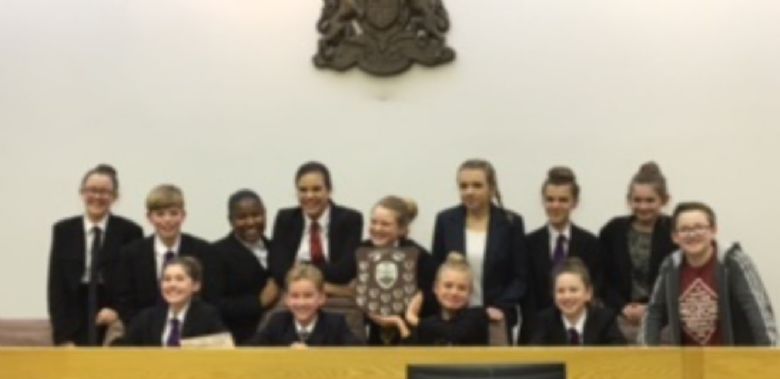 The Mock Trials stuudents have raised £20,000 since August to enable them to fulfil their offer of a place at the World Championships of the Mock trials Competition in New York .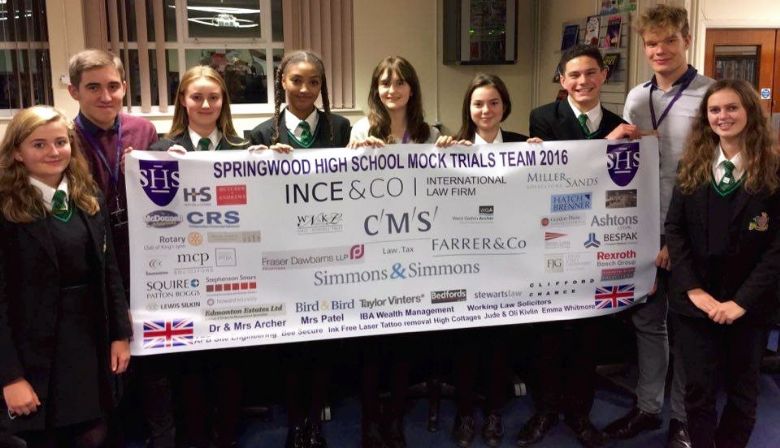 Please see below to view the teams latest news and updates on how they are progressing with their preparation and fund raising for their trip to New York to participate in the world championships.
Mock Trials Team - Newsletter NYC
Click on image to enlarge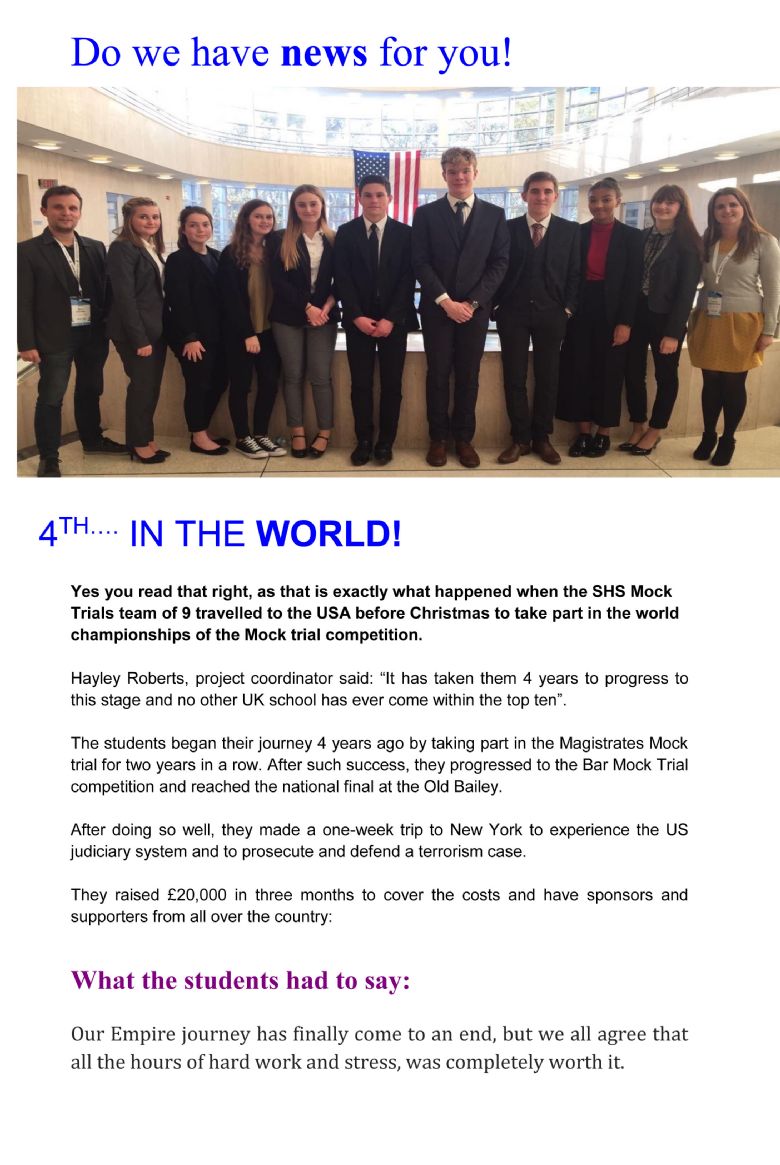 Below is a list of the teams that entered the competition in the winning order.
Click on image to enlarge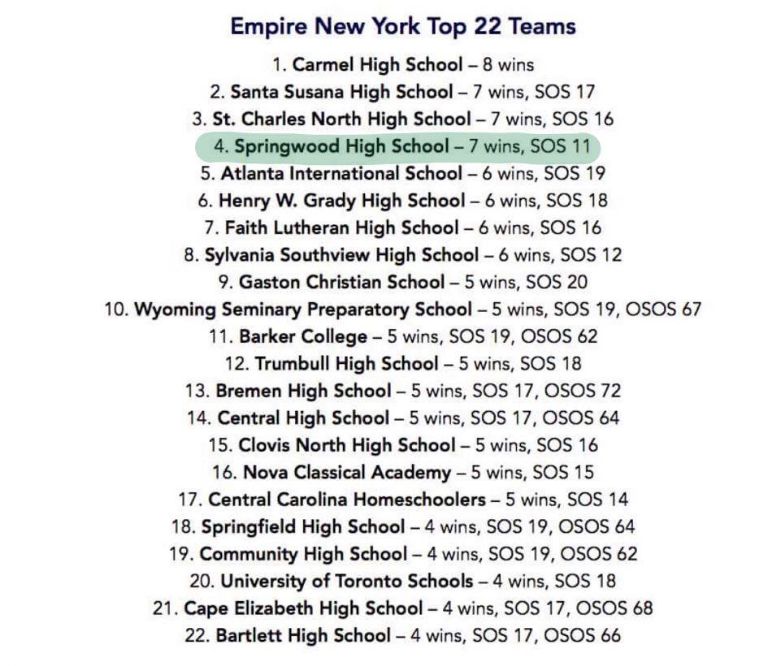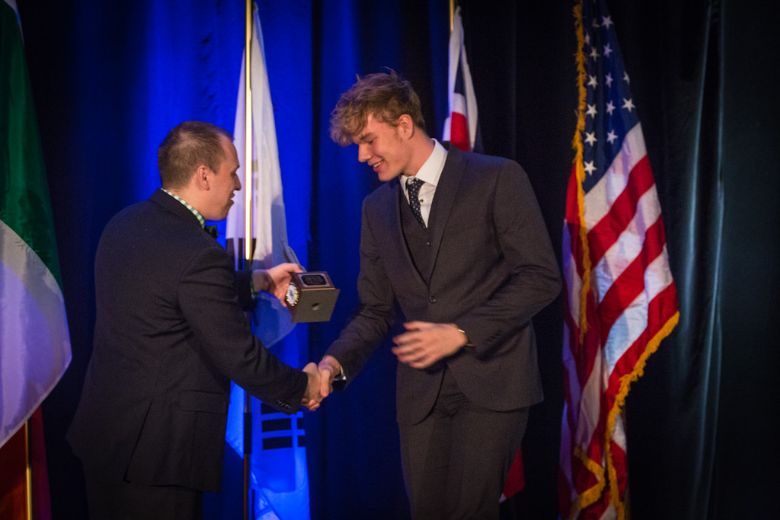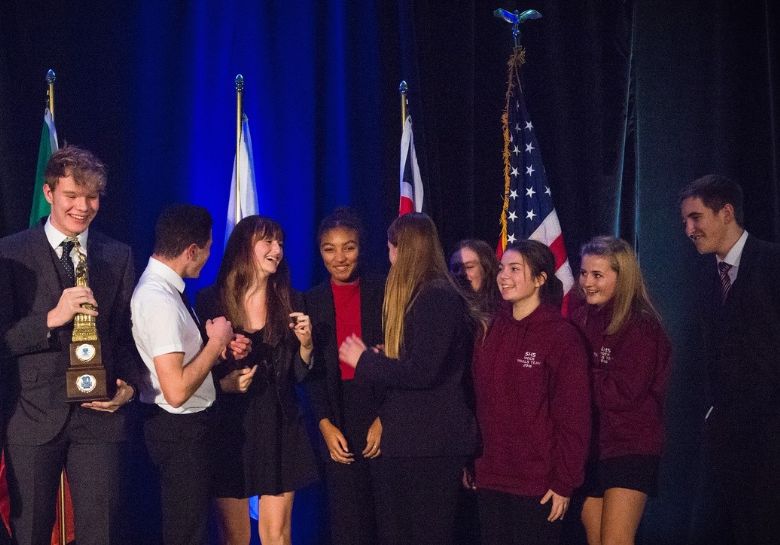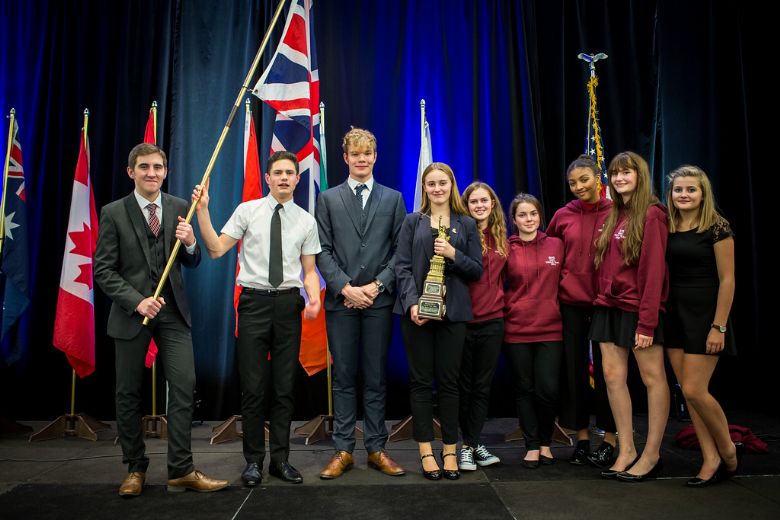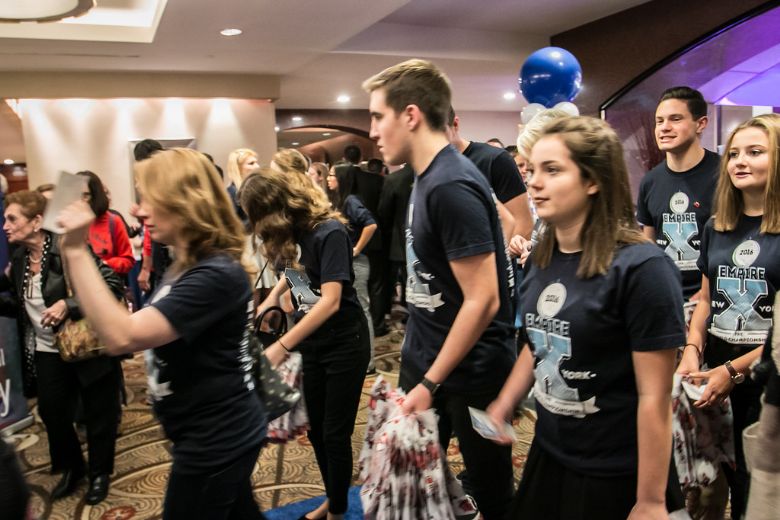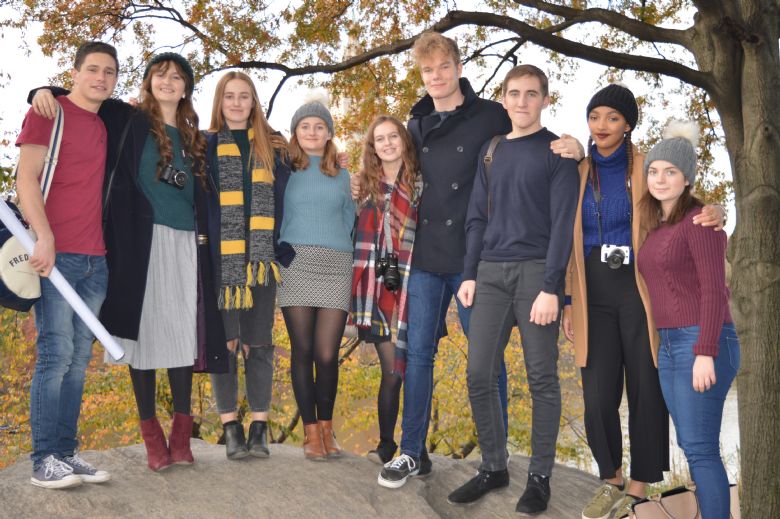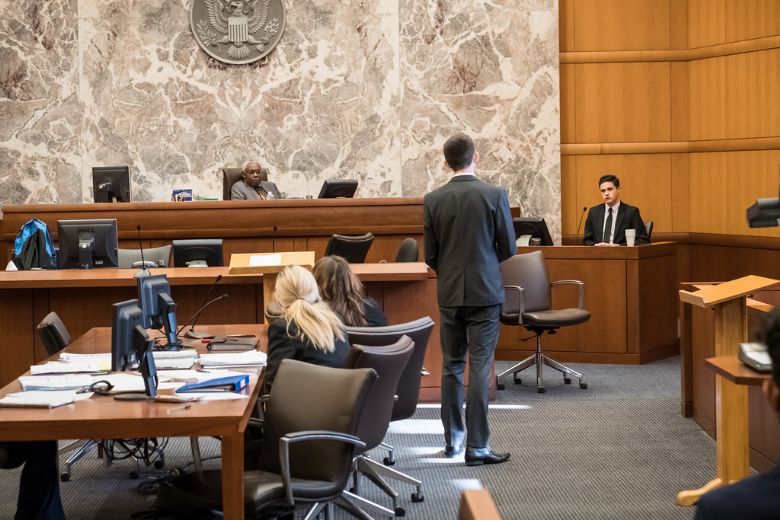 Mock Trials Team - December 2016 - Newsletter
Click on image to enlarge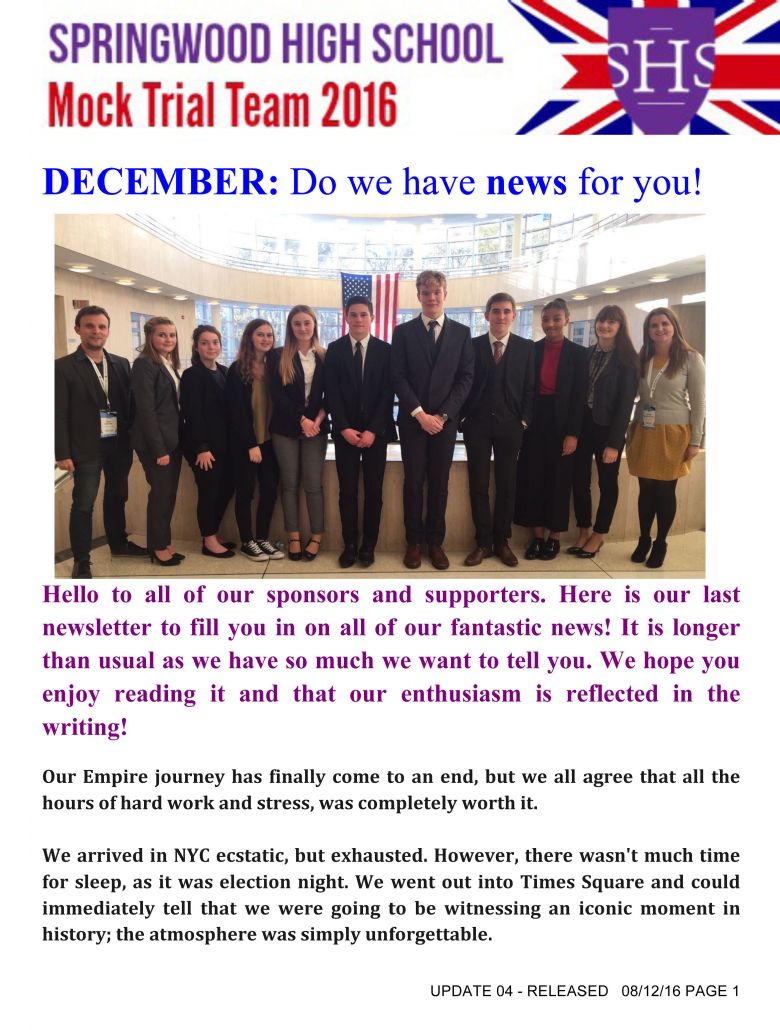 Mock Trials Team 2016 - November 2016 Update - One day to go!
Click on image to enlarge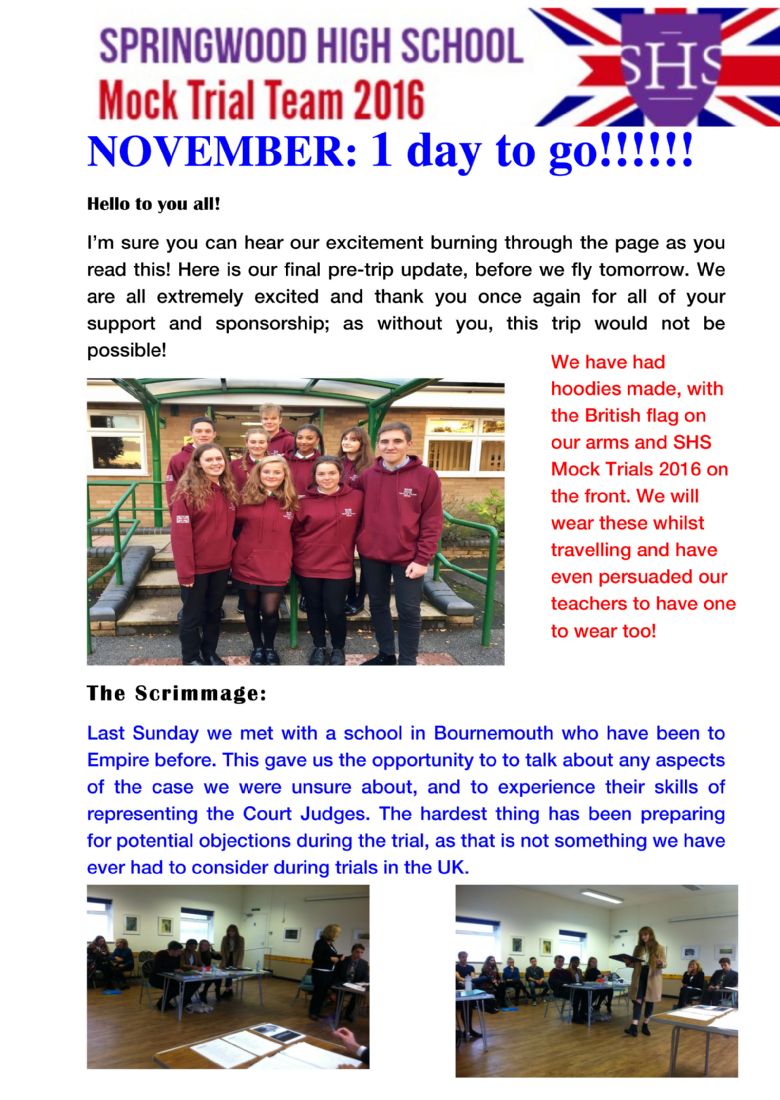 Mock Trials Team 2016 - September 2016 Update - Two Months to go!
Click on image to enlarge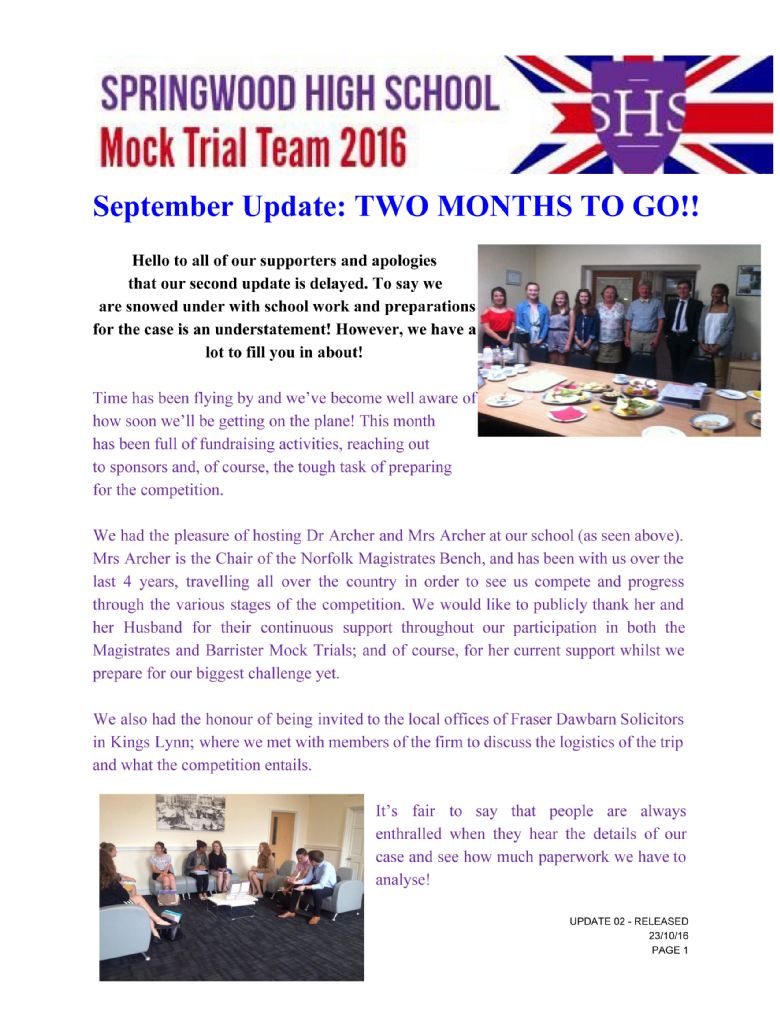 Mock Trials Team 2016 - August 2016 Update - Three months to go!
Click on image to enlarge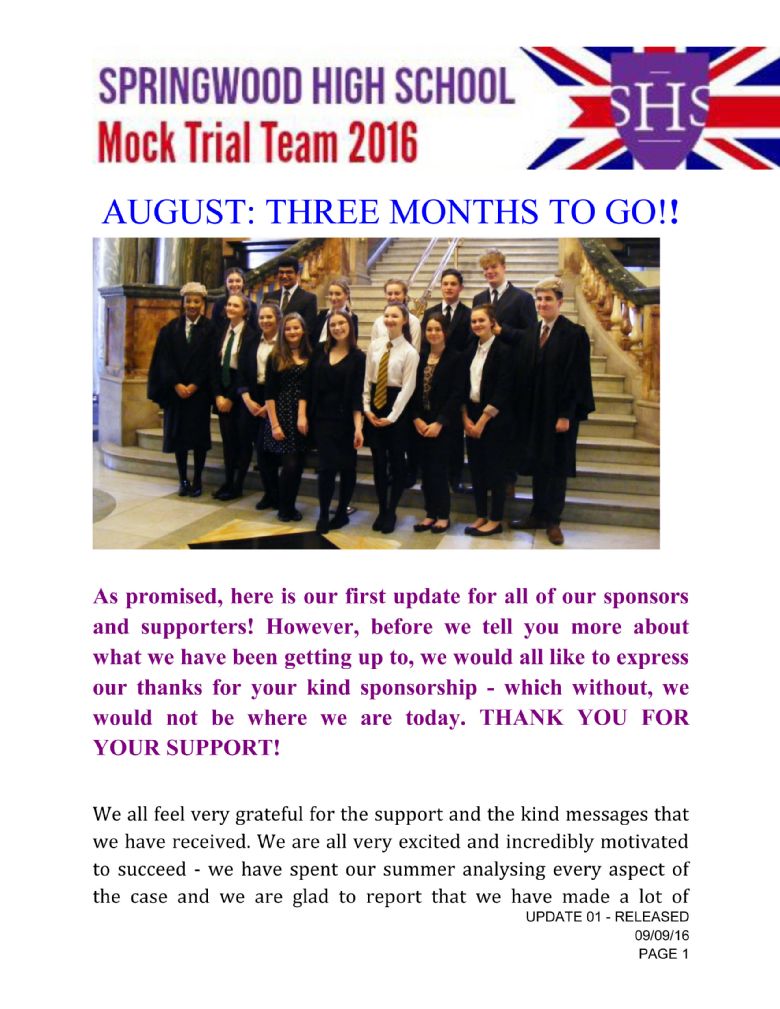 Barrister Mock Trials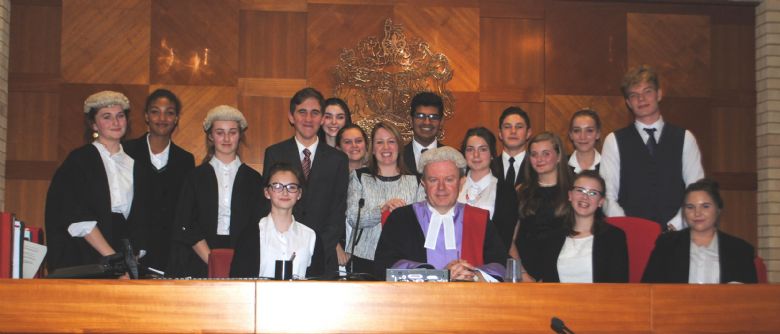 Recently, on 14th November 2015, a team of us took part in the Regional Heat of the Barrister mock trials competition held at Norwich Crown Court. This took months of preparation in our spare time. We had to prepare the defence and prosecution of two cases, but when preparing had no idea which case or which side we would be asked to present. We knew that we had to prepare everything but that we wouldn't necessarily perform everything. This was a huge task in itself!
Although some of the team had taken part in the Magistrates mock trial, it was the first time that we had taken part in the Barrister Competition, and due to this we didn't really know what to expect, other than we would be facing Sixth Form Law students.
As a team, we consisted of: Defence Barristers, Prosecution Barristers, Witnesses for both sides of the case, a Court Clerk and Jury Members. Everyone put in 100% effort before and during the day but also felt extremely nervous.
However, at 3 o'clock the two top scoring schools were read out and it was explained that those schools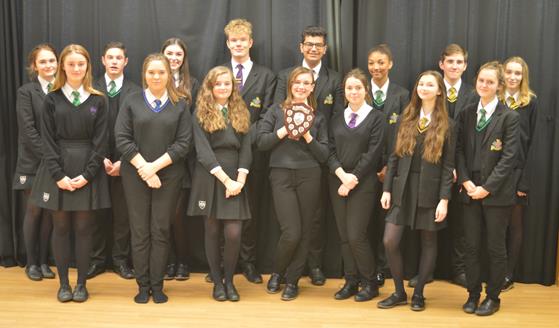 would go head to head for a place at the Old Bailey. To our surprise, we won a place in the final! We couldn't believe it as we were the youngest students there with our team being Year 10 and Year 11 students. We were the only students not to be studying Law!
After a nerve wrecking and tense, five minute preparation break, we were ready to start. Our opponents were very good, however, it turned out that so were we! Cautiously confident, our prosecution pushed for the defendant to be found guilty of robbery. Then the final moment came when the Court Judge announced that 'The winner of the 2015 Bar Mock Trial Competition is…Springwood High School!'
We couldn't believe it and as you can imagine there was lots of cheering from us boys and screaming from the girls (along with a few tears!).
Travelling home in the minibus, with our new addition (the trophy) we were all ecstatic. However, our journey isn't necessarily over as we now must wait until the first week of December, when we will find out if we are in the top 18 out of 24 winners nationwide. If we are, we shall travel to the Old Bailey in London and partake in the National Final of the competition. We are all hopeful and looking forward to receiving the results!
Elliot Simpson BG10
SIMPLY THE BEST!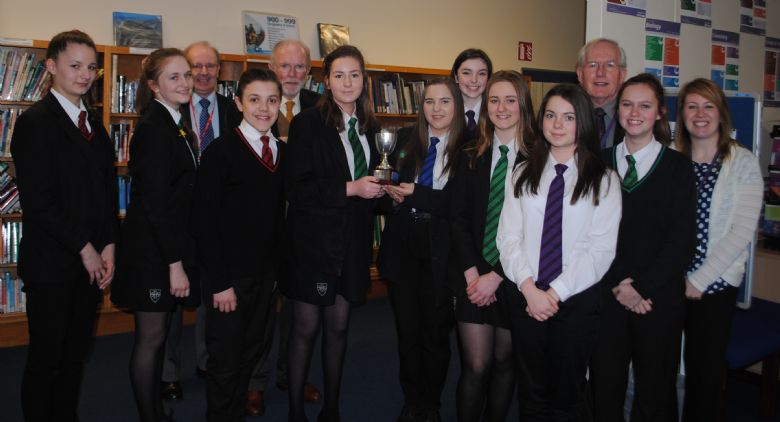 Our Magistrates team had a celebratory lunch today with Paul Bland, Stuart Hall and Graham Howard, in recognition. As on Saturday 7th March, Springwood High School became the winning team of the Magistrates Mock Trial Competition for the third year running!
The event took place at Great Yarmouth Magistrates' Court and saw 13 students take on a variety of roles from solicitors and clerks, to defendants and witnesses.
Performances were judged by Magistrates and legal professionals and the criteria covered a wide range of skills such as ability to question and follow-up responses, exploring witness statements, etc.
This year's case was about the theft of a mobile phone and involved two rounds of competition against two different schools. Hayley Roberts, project co-ordinator commented:
'It's a great way for the students to get first-hand experience of how the justice system works. What's even better, is that they genuinely enjoy the rehearsals and preparation sessions and have even managed to watch some real trials taking place in Court'.
The students will go on to compete in a regional heat in May where they will have to prepare the defence and prosecution for a new case.
We wish them the best of luck!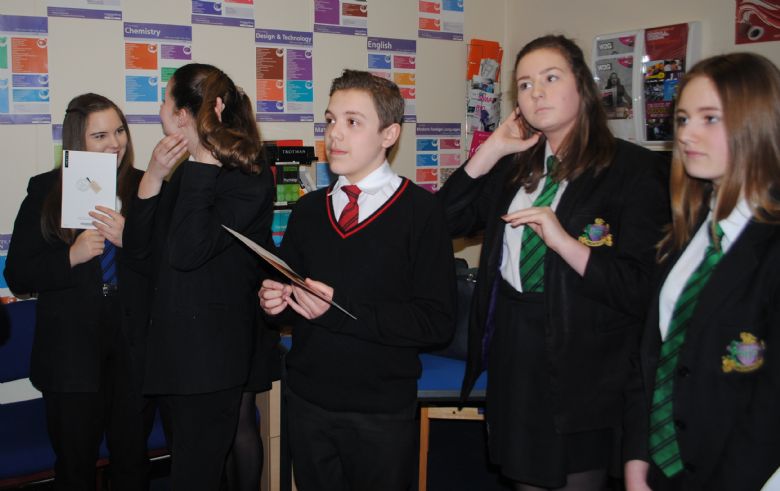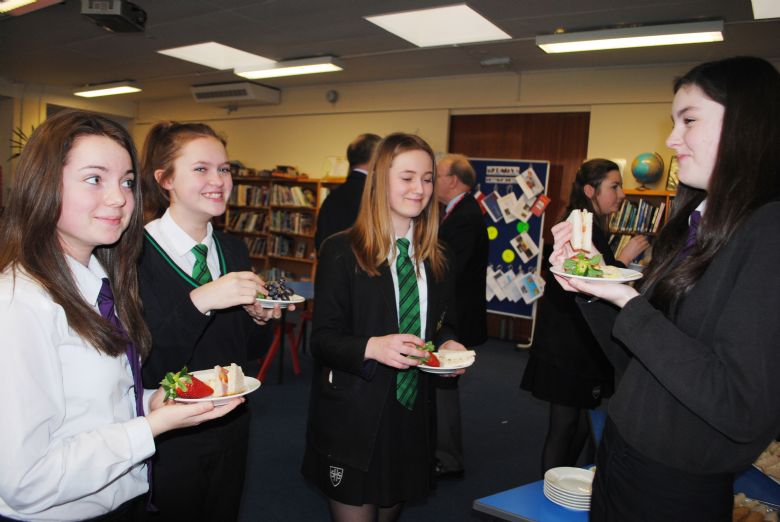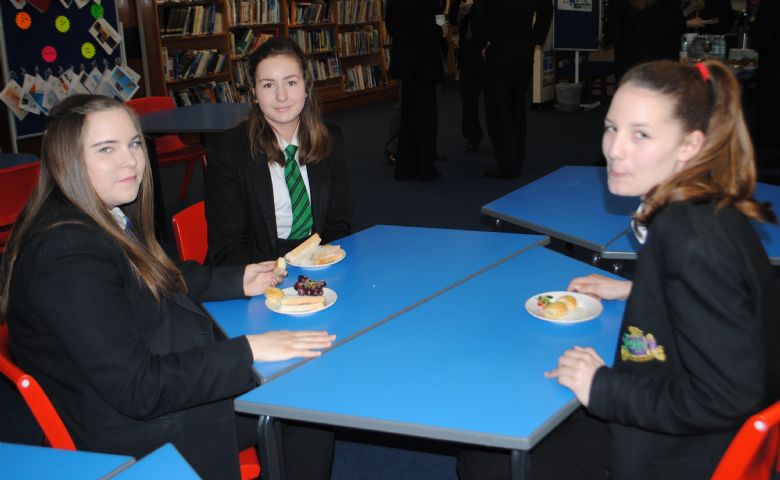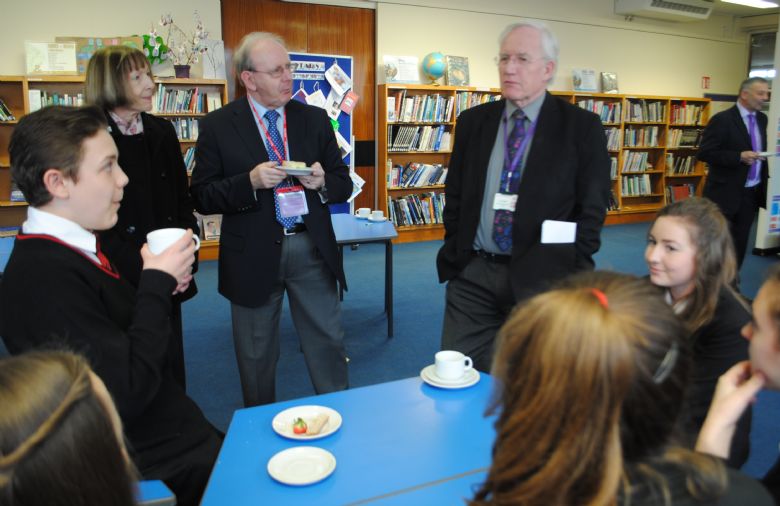 We did it AGAIN!!
For the second year, our Magistrates Mock trial students are through to the National Final which will be held in Birmingham on the 6th June at the Victoria Law Courts. It is a fantastic achievement for the 13 strong team who are becoming quite the young professionals in the legal field!
To celebrate their success in a new way, this half term, they were invited to be guests at Kings Lynn's Speedway. Buster Chapman, director of Speedway is an advocate of our young students and the hard work that they put in and gave them the opportunity to spend the evening in one of their Hospitality Lounges.
Although most of the students were new to Speedway, the adrenaline soon kicked in once they were invited to stand in the middle of the circuit.
They are most grateful to Buster for the opportunity and would also like to thank Mr Bland for his part in the organisation of the evening.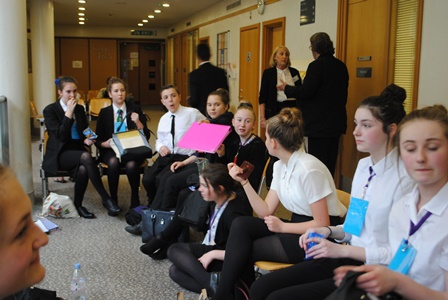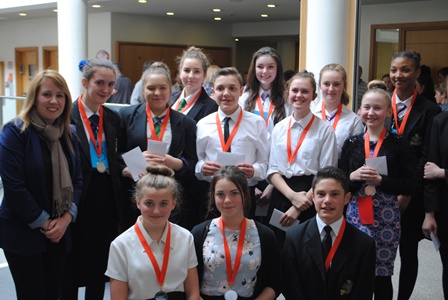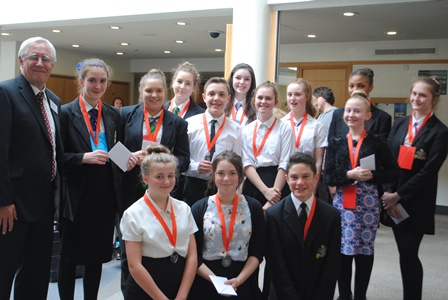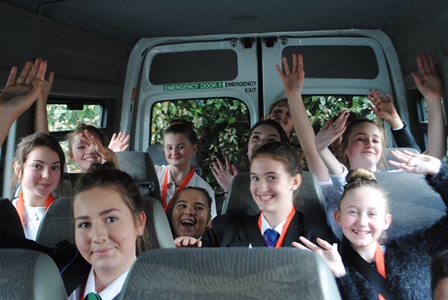 Birmingham: Yet again we had made it through the first two rounds of the Magistrates Mock Trial competition. For months we had been working hard on our cases; giving up two lunchtimes a week, Fridays after school, and even some of our holidays. However, after all of our months of practising, the time had come - the national final.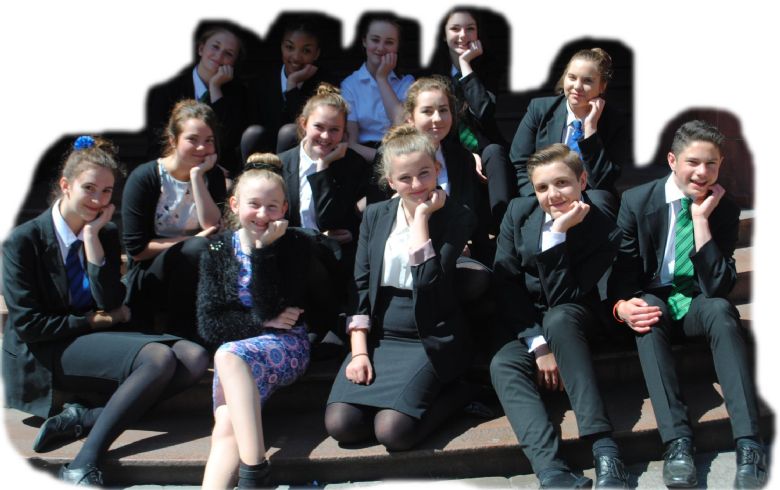 We travelled down to Birmingham on the Friday – the day before the competition but before we departed we spent the morning doing a bit of practice, to ensure we were going to do everything the next day at our very best as we didn't want to leave the courtroom with any regrets. When our last moments of practice were done we got on the minibus and travelled down to Birmingham. Once we arrived we all got checked into our hotel rooms and got ready before dinner. We had a lovely meal together as a group before making time for one very final evening practice. However, early nights were needed for everyone because the next day was the day we'd all been working towards.
Competition day: We woke up nice and early, feeling refreshed and ready for the day ahead but as we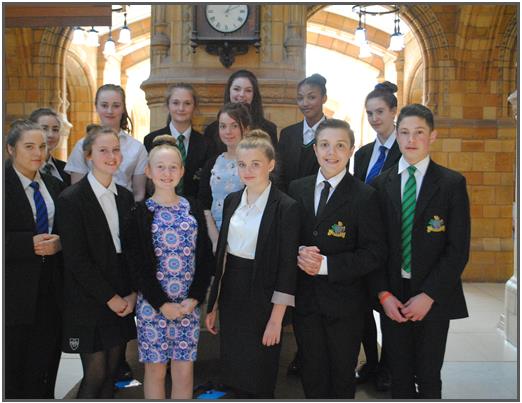 ate our breakfast, the realisation that this was it, began to sink in. Final room checks were completed and we went on our way to compete at the Victoria Law Courts in Birmingham.
Once we arrived at the court and registered, we found an empty courtroom to do some last minute practice before listening to the welcome speeches before the first case. Our prosecution team went up first. They were prosecuting against Pat Taylor who was accused of stealing a mobile phone. They delivered their case immaculately, with very few mistakes and were against Cox Green School who also gave a very good case. Although the prosecution had put their heart and soul into it, the verdict was 'not guilty'.
It was defence's turn next. We were up against Wycombe High School. We fought, and put everything we had into our case, as we were desperate to get our defendant off, who we believed to be 'not guilty'. However, Wycombe also gave a very strong case, which lead to our defendant, Chris Bishop being found 'guilty' of criminal damage to a car.
We all left our courtrooms that day knowing we'd done everything we could have possibly done. Nearly six months of preparation had been leading up to this day. We sat anxiously and awaited the final results.
As we didn't place in first or second, we had to wait until Monday to find out our results. It was then that we found out that we came 4th. This is an amazing achievement considering that the competition started with over 300 schools, and there were 16 schools who competed on the day. We all felt very proud of ourselves.
The whole experience was incredible. The Magistrates Mock trial has taught us all a lot more about the legal system in this country, which many young people don't understand.
We would like to thank all our sponsors for enabling us to have an evening in a hotel which benefited us all, as if we left Kings Lynn on the Saturday morning, it would have been an incredibly early start for us, which would have lead to us all being very tired in court and not being able to fulfil our potential.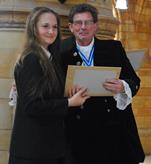 There is no way we would have ever got this far in the competition without our amazing teacher Miss Roberts. She has given up so much of her own time for us over the last few months, which we can't thank her enough for. Miss Roberts' dedication is truly unbelievable and each and every one of us is so grateful for everything she's done for us. Words can't describe how thankful we are for being given this incredible opportunity.