Coming to Springwood High in December 2018
Operating Theatre Live is the UK's only live travelling operating theatre experience for students studying in the UK and Europe. Our rigorously academic dissection based surgical events are aligned to cover content in the main GCSE, National 5, A Level, Higher's and Advanced Higher's qualifications. Through the live dissection of real specimens students will be taken on an incredible surgical experience that will leave them stretched, challenged and inspired.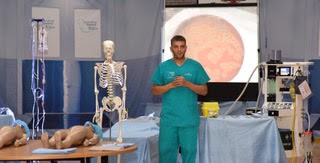 "Sam and his team are incredible, this is exactly what students need to learn anatomy. Even I have learned something myself today." ​Lead Clinical Anatomist MSc Oral & Maxillofacial Surgery The University of Sheffield

Springwood is pleased to announce that we will be hosting this amazing experience open nationally to students aged 14-18 on Saturday 1st December right here at Springwood High School. This is a ticketed event and students can choose 1 of 2 options;
Main Event - Ticket £69.00 (Excl Booking fee) (9.00am – 5.00pm) Includes scrub hire, stethoscope hire, full PPE, 7 workshops and lunch

2.Trauma - Ticket £139.00 (Excl Booking fee) (9.00am – 8.00pm) Includes scrub hire, stethoscope hire, full PPE, 8 workshops, lunch and hot evening meal
The in-depth sessions will show you how anatomy and physiology translates into disease. You'll learn how doctors use cutting-edge technology to treat disease
You'll dissect real specimens! we are the only provider of dissection based programmes where you will explore all anatomy including the stomach, intestines, gall bladder, pancreas, colon, head, spinal cord and neck.
Have a go at administering anaesthetics to our patients, try your hand at intubation on real thoracic blocks as well as attempting real heart transplant surgery.
Take away a curriculum linked workbook pack and certificate for applying to medicine -enhance your application and expand on your dissection based surgical experiences.
There are a limited number of tickets available and this will be advertised to all schools in the 20 mile radius of springwood, so hurry and book your ticket and secure your place at this unique and inspiring event.
To view articles published in the local press please click on the links below:
The Operating Theatre live team also gave presentation to the Dragons Den on BBC2 - to view click here