Careers Programme at Springwood High School
Springwood High School Career Plan
The challenges that our school leavers face are more complex and challenging than those faced by previous generations. Research conducted by Central YMCA have listed the top two as being
Lack of employment opportunities
Failure to succeed in the education system
Previous eras have focussed on the need for creativity to build futures in the advertising and marketing sectors which were seen as the high flyers, the future now lies within the world of maths and science with the increasing replacement of jobs by AI. This was highlighted by the Government push in 2014, launching the "Your Life" Campaign to improve engagement in STEM subjects in order to prepare for the changing future.
Careers advice and guidance plays a crucial part in the preparation of young people who are facing an uncertain and ever changing future and job market. In addition to strong academic skills they need to be able to develop a portfolio of employability skills, these include, confidence, communication, self presentation and marketing, your ability to stand out from the crowd, the use of new digital and analytical skills including the ever changing social media.
Qualifications are undergoing a period of change, this is not just within schools and colleges, this extends to degrees and beyond with the introduction of degree apprenticeships associated to international employers enabling study and progression to be world wide. Thus the need for good quality careers education, information, advice and guidance. The Springwood High School Careers Plan sets out how it intends to provide a robust and comprehensive programme to enable all students to access the quality of information required for them to maximise their potential.
The plan outlines how we will inspire students and furnish them with the knowledge and opportunity to grasp the opportunity and take ownership of their future by building action plans and supporting their growth and development on their journey to their chosen career.
This plan will integrate with the West Norfolk Academies Trust corporate plan which sets out the scope of Careers, Information Advice and Guidance across the trust including its primary provision, enabling inspiration for careers to be developed in the early years.
The careers plan is based on the Gatsby Benchmarks and aims to deliver a coherent, integrated programme that is supportive through the education of each student and prepares them for their post 16 choices enabling them to build and manage their future. It is our duty to ensure that all students receive professional, independent and impartial information, advice and guidance regarding all options for their time within and on leaving mainstream education and how their choices affect their future.
By helping students to make informed decisions at all the crucial stages, informing them of their options and introducing them to the world of work we aim to empower them to succeed in whatever path they choose.
We aim to maintain and build new links with our Enterprise Co-Ordinator, Advisor Networks, Further Education and Higher Education providers and a network of employers so that each year group can benefit from meaningful education and employer engagement. This aims to improve social mobility within our student population and move away from stereotypical careers advice.
Student Provision/Opportunities - By Year Group
Year 7 Students are:
encouraged to build confidence and independent skills to strengthen their personality traits and are encouraged to have high expectations of themselves
encouraged to identify areas of inspiration both within academics and future aspirations
introduced to the world of work and careers resources and informed of the importance of their future and the link with their education
part of an industrial awareness day that enables them in an interactive way to experience the process of manufacturing food.
At this stage in a students life it is important to widen their scope of future possibilities rather than have them limited to home or family ideas.
Year 8 Students are:
encouraged to continue with their personal development, increasing independence and maintaining high expectations of themselves at all times both socially and academically
guided to identify their strengths, talents and encouraged to link these to specific careers enabling informed GCSE option choices to be made
provided with CIAG in conjunction with parents/carers at Options Evenings to emphasise the need for core subjects in the ever changing world of work in addition to those chosen subjects
encouraged and supported in building research skills to enable them to research careers that interest them and use this as a basis for discussion with an advisor in careers information, advice and guidance drop in sessions
provided with a range of careers resources that demonstrate and build employability skills including an Enterprise Challenge and subject specific opportunities
introduced to money management skills and essential like skills
provided with a one to one meeting to review option choices and link to strengths/talents prior to finalising GCSE options
expected to attend career information assemblies and talks provided by local organisations.
Year 9 Students are:
encouraged to reassess their personal strengths and identify skills which are transferable to the world of work
encouraged to focus on those transferable skills which are relevant to their chosen careers, and build a portfolio of evidence to support those skills
encouraged to increase independence and start to develop planning skills that enable them to develop a healthy study/social life balance in order to reduce stress in the future
encouraged to become economically aware
encouraged to challenge and find ways to overcome barriers, challenging stereotypes and raising aspirations
introduced to CV building, letters of application and interview techniques, they are encouraged to use this process when applying for roles within the school
set tasks to develop careers research skills to ensure they have access to the most up to date requirements and are aware of changes in trends/needs
Year 10 Students are:
introduced to Post 16 choices and the application process and are encouraged to explore the range of opportunities that are available to them
introduced to the techniques and skills they need to master to maximise their chances of success in their chosen path, this could include the range of interview methods that may be used including telephone, online, video and face to face, the use of social and digital career management skills, the benefits of gaining experience in their chosen field to consolidate their choices
instructed in writing personal statements, completing education application forms, writing CVs and job applications
encouraged to attend opportunity evenings, meetings, higher education visits and use careers resources to ensure they are fully informed on what is needed for their short and long term plans
experience Careers Fairs, focussed employment workshops, educational open days, guest speaker presentations
Year 11 Students are:
supported in making their Post 16 applications ensuring that they fit with their long term goals and develop a 1, 3 and 5 year plan
encouraged to consider all their options – 6th Form, Independent Training, Apprenticeships, Regional College and UTC
encouraged to complete their Help You Choose application to indicate their Post 16 destination choices
invited to one to one careers information, advice and guidance interviews, where appropriate, in addition to group activities to ensure specific entry requirements can be met and that the chosen pathway fulfils future plans and also to develop contingency plans. Students are encouraged to aim high and not close down opportunities due to self doubt
coached to enhance selection skills including personal statement writing, CV writing, interview techniques and confidence building
asked to reflect on their current behaviour and achievement and identify if there are areas that need improvement and develop plans to address issues
encouraged to gain experience in their chosen field whether that be volunteering, work experience, visits, and advised how this is a positive attribute for them when they are in the selection process. They are encouraged to think about personal achievements in both personal and school life and how these could benefit a future employer
Students
Careers information and experiences are key to your understanding of the world of work and your future choices be it 6th Form, College, University or Apprenticeships. As a school we aim to give you at least one experience with employers per year and offer a range of Further and Higher educational opportunities such as University visits in Year 10 and College of West Anglia and 6th Form taster days.
We want to enable you to make the most informed choices possible that are appropriate to you. The following websites are useful sources of information that will assist you:
https://www.notgoingtouni.co.uk/
https://www.careerpilot.org.uk/
https://nationalcareersservice.direct.gov.uk/
https://www.getingofar.gov.uk/
https://www.gov.uk/apply-apprenticeship
The following table shows what each year group has planned for 2018/2019
Year

Structured Programme
for All

Structured Programme for Some

Theme

7

Participation in Industrial awareness Competition (TT/SLD)
Subject Specific Homework tasks

Introduction to idea of Industry/careers

8

Options Programme (TT/SLD)
Careers Research Programme (HW)
Awareness of Independent Websites (HW)
1:1 Interview
Subject Specific Homework tasks
Targeted Industry and F/H Education assemblies
COWA support from Potential NEET and pupil premium students

Awareness of potential careers, pathways and options to achieve them.

9

Futures First Programme (TT)
CV writing
Letter of Application
Futures First
University Visits
Careers Fair

Students to explore, create and develop their ability to apply for employment

10

Futures Pathways (TT)
Rights & Responsibilities at Work (TT)
High Achievers Evening (SE)
Futures (SLD)
Employability Challenge/Aspire
Peterborough Careers Fair
Health and Social Car mentoring – Skills Service
Work Ready Schools modules –

Targeted University Visits (V)
CoWA (V)
Oxbridge Visit (V)

Increased focus on potential employment, increasing employability levels

11

VI Form Open Evening (SE)
HelpyouChoose (TT)
Awareness of Open Evenings/Days
Mentoring with Skills Service
Targeted Wednesday afternoon careers sessions
Assemblies (industry)

Targeted Work experience organised
Intervention meetings with PP Manager
Intervention meetings with SENCO
NEET Helen Mason

Informed choices made for future pathway
Employers
At Springwood we are aiming to have the most prepared and sought after school leavers in the local area who are ready and equipped for the world of work. The school begins this preparation of the students by building up their awareness of industry in Year 7 and continues through to career guidance of choices in Year 11, this of course continues with Year 12 and 13 students. Each year we want the students to have contact with employers and this can be in many forms such as small focus groups, mentoring or assemblies.
Should you wish to be involved in this process please contact the Careers Coordinator on the following details:
Careers Coordinator
Mr Jason Holmes
01553 773393 extension 111
Apprenticeship Opportunities
There are a wide range of positions available in various locations throughout the county - please see below for more information:
Apprentice Administrator - Queen Elizabeth Hospital - Kings Lynn
The Queen Elizabeth Hospital Kings Lynn NHS Foundation Trust is currently recruiting a Apprentice Administrator, within Business Support and the Clinical Coding Department.
The role plays a vital part in the coding process. This post ensures the department is supported by the provision of patient case notes in a timely and efficient manner to enable deadlines to be met.
We are looking for a self-motivated, enthusiastic, efficient individual, with good interpersonal skills, an individual who is willing to learn and who is always ready for a challenge. A training programme will be provided.
If you are interested in applying for this post then please click here.
Group Finance Apprentice - Consort Medical - Bespak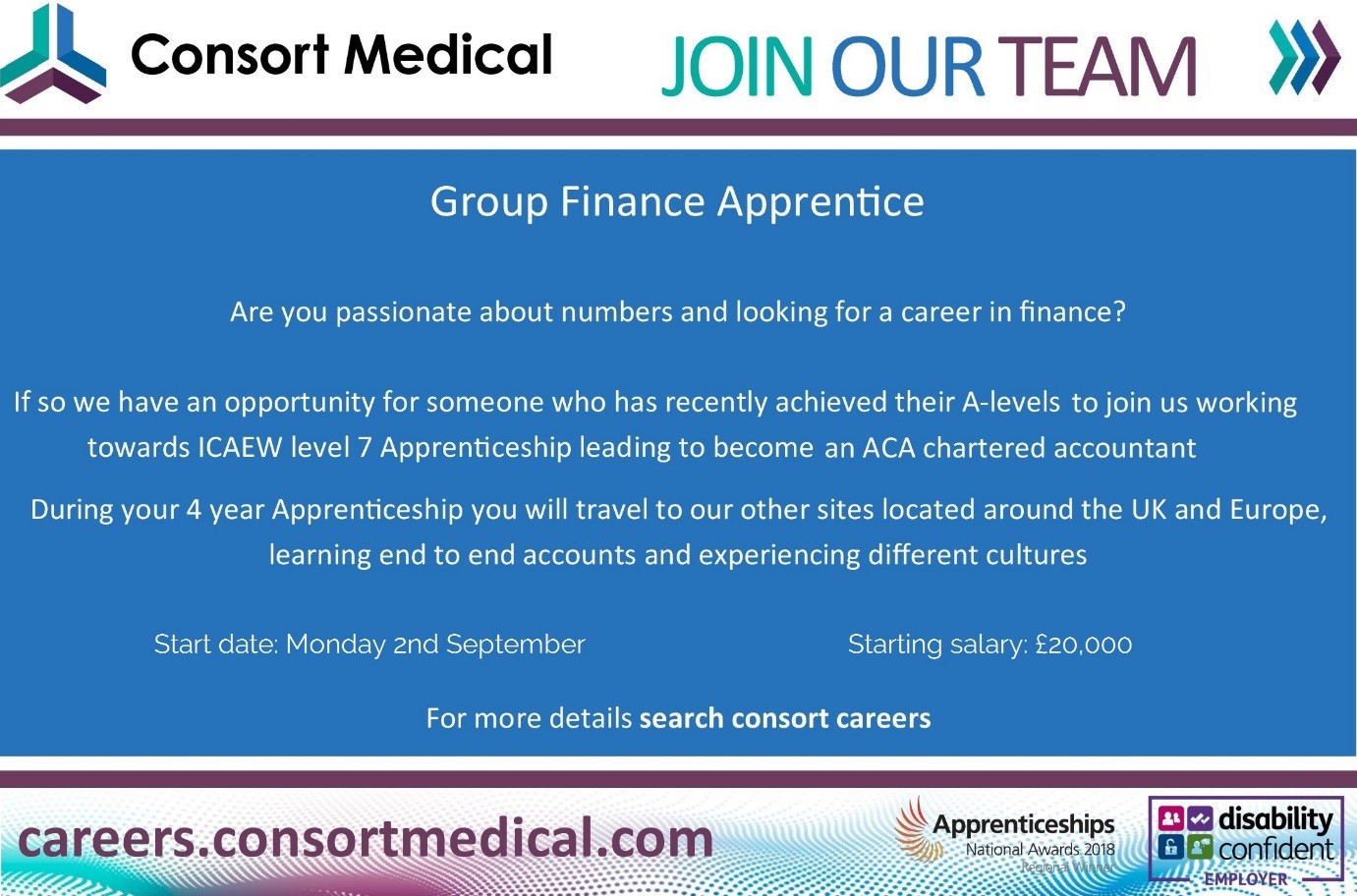 Medical Engineering Technician apprenticeship in the X-Ray department
Queen Elizabeth Hospital - Kings Lynn
A science industry maintenance technician contributes to the fault free and safe operation of science industry plant by the installation, maintenance, testing and repair of mechanical, electrical equipment and instrumentation. They will be proactive in finding solutions to problems and identifying areas for improving their work environment. As well as core engineering skills, maintenance technicians need to understand and follow working practices that are specific to the safety critical science industry.
The apprenticeship will be at level 3 Science Industry Maintenance Technician through The College of West Anglia and it will last for a minimum of 36 months, with an average of 42 months duration.
Please see the link below for more details.
https://www.instituteforapprenticeships.org/apprenticeship-standards/science-industry-maintenance-technician/
Applicants should be educated to A level standard [or equivalent] in Maths and Physics [science] as a minimum.
The salary will be starting on a band 5 £24,214 - £30,112, both salary and banding will rise to band 6 (£30,401 - £37,267) upon satisfactory completion of the apprenticeship.
If you would like to find out more about the role and the team please contact Mark Abbott on mark.abbott@qehkl.nhs.uk or 01553 613613 extension 2481 (X-Ray)
Please email Andrea James to show an expression of interest for this upcoming position andrea.james@qehkl.nhs.uk
Learning and Organisational Development/Widening Participation Administrator -
QE Hospital, Kings Lynn
Working in the Human Resources team
On a fixed term contract for 12 months.
BAND: 2 £17,652 - £19,020
37.5 hours a week Monday to Friday with the occasional early start (7.30) and evening.
To provide a high quality and efficient administrative support to the Learning and Organisational Development and Widening Participation team including assisting with face to face, telephone, and email enquiries.
Applicants should have English grade C or above or equivalent and Maths grade E or above or equivalent
If you would like to find out more about the role and the team please contact Andrea James on 01553 214885 or andrea.james@qehkl.nhs.uk
Please also email Andrea James to show an expression of interest for this upcoming position andrea.james@qehkl.nhs.uk
Civil Service Fast Track
The Civil Service Fast Track is a Level 4 Apprenticeship that offers you a permanent job in the Civil Service.

Students can choose one of 6 apprenticeships, each within a Civil Service profession, so whatever their interests, there's a career that's right for them.

Fast Track offers great starting salaries of £19,500 - £27,000 and unlike many apprenticeships doesn't have an upper age limit. Offering on the job and structured learning during their apprenticeship and beyond, Civil Service Fast Track is a genuine alternative to university for those who are ready to Earn, Learn and Succeed.

With over 750 roles on offer across the UK, make Civil Service Fast Track your brilliant beginning.
Go Construct!
The Go Construct website showcases the many career opportunities available in construction and the built environment. The site helps to meet the future skills needs of the industry and to recruit a workforce that is diverse and ready for the challenge of the future. It aims to
INSPIRE
Inspire people to consider a career in construction
---
DISCOVER
Discover what a career in construction is really like
---
EXPERIENCE
Experience the industry for themselves
City College Norwich Apprenticeship Opportunities
For information regarding current course and vacancies the please click here.
Further opportunities can be viewed on the HelpYouChoose website (www.helpyouchoose.org) and also on the Archant Jobs24 site (www.jobs24.co.uk) – look under Job Search by Type à All Apprentice Jobs.